Top Scorers - Xavier Henry 24.8, D. Richardson 22.0, Gary Franklin 21.8, Tommy Mason-Griffin 20.8, Terrence Boyd, 18.5, Carl Tankson 18.3, John Wall 18.3, Andrie Coleman 18.3
Top's in rebounds - Keith Gallon 44, Alex Oriakhi 42, Colley 36, Wall 32, Hamilton 31, Noack 31, Stinson 30
Top's in assists - John Wall 25, Phil Pressey 24, C. Payne 22, Marshall 20, Mason-Griffin 18, Selby 14
Blocked Shots - Oriakhi 10, Spencer 8, Riley 8, Noack 7, Ratliffe 7, Wilson 7, Johnson 6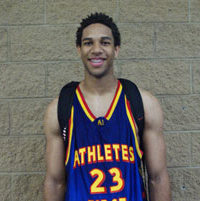 There are no stats on the 16-U teams, but some of the best ball of the tournament is going on in this bracket.  Albany City Rocks went to 4-0 defeating Boo Williams, in a game with two loaded teams.  BDNP will have interviews with three of the players from these teams in the coming days.
Some of the U-16's who've played well as I watched are, Travis McKie, James McAdoo, a 2012 kid named Justin Anderson, all from Boo Williams.  Jason Morris who pulled double duty for the New York Gauchos and Team Playaz played well.  Morris took a nasty fall after a dunk and fractured both cheekbones and got six stitches.  He then played in the next game.  More details on BDN Premium.    Then there was Michael Gilchrist of Team Final, Taurin Buie, Will Regan and Tibias Harris of Albany City Rocks.
The top players I viewed in in the 17-U division were Xavier Henry (pictured), a physical speciman who never quits.  We will have a brief talk with this national prospect this week along with his teammate Daniel Orton who is close to a decision.  Henry will take four official visits to Kansas, Memphis, UCLA and Texas before deciding.
John Wall really revved it up in his last two games, but his team was eliminated going 2-3.  He is a serious talent worth the hype.  Keith Gallon of Houston Hoops is an absolute load and plays hard on the blocks.  Alex Oriachi looked very good down low as well.  Gary Franklin continued his torrid play, where he pretty much does it all.  And there were several Boo Williams and other kids which impressed as well.  Recardo Ratliffe and Steven Pledger rose to the top for Boo in their win today.  Pledger, who is not listed in the top 100 in Prep Stars has been consistent all summer.  He is, IMO, top 75 for sure.  Kammeon Holsey, who committed to Georgia Tech played two really solid games, scoring in the high 20's to lead his team the Georgia Stars to a 4-0 record.
The play offs begin today and the finals are tomorrow.  Complete coverage of the Duke prospects is available on Blue Devil Nation Premium.