Today's Duke scrimmage started with a penalty, but as the session went on, some positives emerged.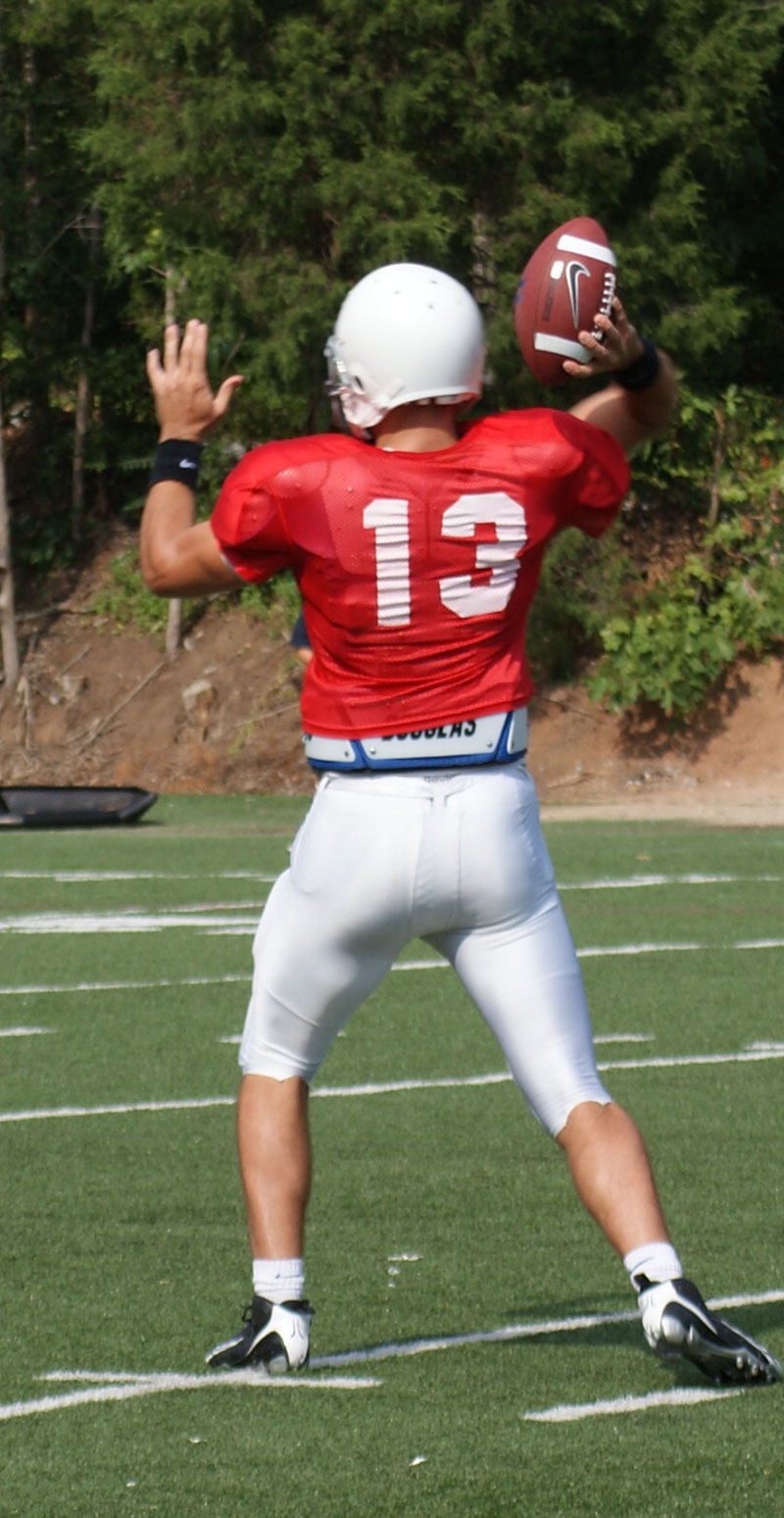 Quarterback situation -  It has become obvious that Zack Asack will push Thadeus Lewis which is a good thing in that competition generally makes for a better starter.  Lewis was 9 of 13 for 92 yards.  He showed accuracy and stayed in the pocket.  Asack wasn't nearly as accurate going 6-14 for 67 yards.  However, one of those passes was for a T.D.  He also had 4 carries for 55 yards thanks to one big play.  If he can get a little better with his footwork and confidence in the pocket, he will be a nice dual threat.
Running Backs- Duke lacked depth at this position coming into the season.  It has gotten worse.  Boyette was penciled in as the starter but is out indefinitely.  To make matters worse, Clifford Harris is nursing an unknown knee problem and sat out the scrimmage.  Cameron Jones had a nice 35 yard burst on one play.  Jay Holligsworth a true freshman got some reps as well gaining a team 54 yards high on 10 carries.  Tony Jackson added 5 totes for 22 yards and Patrick Kurunwune, another freshman rolled off some blocks well with a couple of runs.  The team was better hitting the holes on the outside than the interior.
Tight Ends- In another depth challenged position, Tielor Robinson could be a go to guy.  He had 2 catches for 11 yards.  Brett Huffman also contributed with a couple of nice catches.  Brandon King is still sidelined and there is no timeline established for his return.
Receivers- A relatively quiet day for Riley who played sparingly.  Raphael Chestnut had 2 catches for 18 yards.  Jeremy Ringfield had an 18 yard scoring reception.  There were a couple of single catches as well.
Offensive Line- The team mixed and matched some linemen today in an effort to get players acclimated to playing together.  Upper class men played well.  They held up more often than not, but sometimes missed assignments which led to the QB.  Of course, this could also be blamed on the backs who may have missed their assignments.
Defense- Eddie Morgan (S) recovered a fumble and fellow safety Adrian Aye-Darko had an interception.  I focused mainly on the offense today.
Kicking Game-  Before the scrimmage, I saw some pretty good punts which showed increased hang time from last season.  During the scrimmage, Surgan continued his struggles from last season, missing one long field goal and a short one.  In fact, Cutcliffe as promised went for two on one XP situation and it was converted where Tony Jackson ran it into the end zone.
Freshman watch – Jay Hollingsworth averaged over 5 YPC today.  Also, Johnny Williams has really impressed me so far.  You can bet that freshmen will play big roles in the running game.

Cut Quotes –  Overview of the scrimmage – "I think we got what we wanted out of this scrimmage.  We had some two minute drills which were pretty dynamic.  We got some goal line work, we got a lot of third down work.  The offense took the ball right down the field making big plays but they turned it over in a forced error by the defense.  One big glaring thing right now is we've got to find somebody to run the football."
On current running backs - "Tony Jackson hasn't had a lot of practice at running back, because I moved him in spring practice from defense.  Jay Hollingsworth, Patirck Kurunwune and Cameron Jones are behind that, but nobody at this point has asserted itself.  So, I am kind of scouring the team looking at every situation to try to find help in that position."
On injuries – "I just don't dwell on injuries in football.  It's an unhealthy thing to do and I learned that early in my career.  We won't ever do that as a team."
On Vince Oghobasse – "Vince is a very talented player that was injured after he came.  When we came, to be quite honest with you, he wasn't in good enough shape to play like I think the guy can play.  He's now coming around.  Conditioning is a little challenging for him with his health status, bet he's coming around to becoming a pretty disruptive football player.  I'm real anxious to see what kind of year he has."
On the quarterbacks- "Thad has his best day today.  He's really done a good job getting a grasp of the offense.  His conditioning level is way beyond what it was.  Zack has shown he can make big plays.  What Zack has to do is show me more consistency in managing the offense and putting guys in the right place and more consistent running the football.  He's very capable of doing that."