Team USA began it's quest for the Gold Medal today by choking China with it's defense on there way to a 101-70 win.  Of course, all Duke fans are paying more than a little attention to the games and we will continue to cover the games.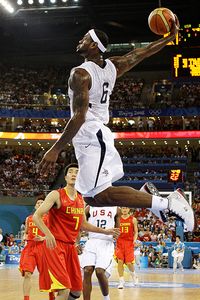 Coach K- It was an honor for us to be in this game.  I thought the Chinese team and our team both played extremely hard.  I was proud of our effort.  I thought that the attention we gave Yao early, he made some really good plays to get his teammates involved.  And they hit 3's.  More than half their points in the first half were from 3's.  We were like 1-for-12 … I think we ended up 1-for-15 before we starting hitting some 3's.  I was proud of our guys.  I would hope that their coach would be proud of their kids.  I thought both teams really responded at a high level to the magnitude of this game.
Team USA coasts to win–Tight Defense stymies China's Bigs–A.P. Recap–Box Score
So, what was the pre game like?–USA savors experience–Silk Road-Tobbaco Road?