[private]Josh Hairston and Tyler Thornton have committed to Duke University!  The BDN has learned from sources close to the situation that the two standout prospects from the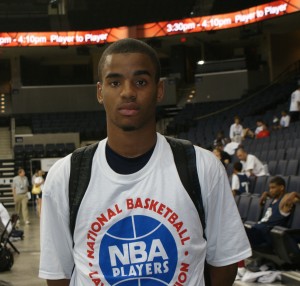 class of 2010 made their selection today.  Welcome aboard guys!  Good job staff! 
Josh Hairston - (2010) 6-7, 200, Spotsylvania, Va.  Courtland HS
Josh continues to improve his game, having developed more and more over the AAU summer.  He has a nice inside-outside game and Duke will use him much like they did Roshown McLeod.  Josh picked Duke over Virginia Tech, Ohio State and Georgetown.
Tyler Thornton - (2010) 6-2, 180, Gonzaga HS  Washington, DC - Tyler is a true PG ranked hin the top fifty players in the class of 2010.  He is a hard nosed leader who loves to win.  He is Josh Hairstons teammate for DC Assault on the AAU circuit.  Thornton chose Duke over Georgetown, Stanford and Wake Forest.
"We got them," said Duke commitment Andre Dawkins.
"We're very happy to have them aboard," said a source close to the team.
The members of BDN Premium get reliable information and are often tipped off long before the real deal goes down.  I will have interviews with Hairston, Thornton, Dawkins and Plumlee up starting late tonight.  Why not join us on the inside by becoming a member of BDN Premium today![/private]