Blue Devil Nation Premium had a chat with Mason Plumlee about his official visit to Duke this past weekend.  He speaks of his brother Miles, his play over the summer with Team USA, his chat with Coach K and his upcoming high school season.
As a member, you have full access and much more awaits you inside.  You will read the very latest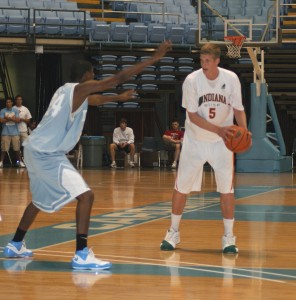 from Josh Hairston, Andre Dawkins, and Tyler Thornton.  Be one of the first to read Thornton's thoughts on his commitment.  Get vital updates on Boynton, Kelly, Smith and Knight and find out who else the Devils are looking at.
You can count on accurate information and and timely tips that are ahead of the curve.  Our member retention rate is the best in the business in that we stay a couple of steps ahead of the corporates.  So, why not join in on the fun and discuss the latest happenings with other members on our premium only message board. On to the article -
One could certainly make the argument that when Mason Plumlee committed to Duke, it was like a shot in the arm to the program.  Before his verbal, two top rated prospects never made it on campus, choosing to play elsewhere.   While some fans worried with the usual message board doom and gloom, Plumlee became a cornerstone of sorts and the future of Duke Basketball is shining bright.
When Mason visited the Duke campus during the courting process, his brother Miles (Duke 08) tagged along.  Nobody knew at that time Stanford would lose their coach and gain former Duke Assistant Johnny Dawkins.  It ended up working out well for Duke in that Miles had seen Mason's recruitment up close and personal.  This prompted him to sign once he was released.
Mason Plumlee has become an important recruit for other reasons besides the later addition of his brother.  He's the prototypical Duke big man in that he is versatile.  I have been able to view about 12 of his games since Duke first showed interest.   His strengths include the ability to pass and put the ball on the floor extremely well for an player with a 6-10 frame.  With his ability to hit the boards, take up room in the lane, a nice and still developing offensive game and you have a player that is sure to contribute.
Plumlee finally made his official visit to Durham in a weekend that became a recruiting bonanza. "The official went real well.  Just to get over to Duke again was nice," said Plumlee.
"It was the first time I got to see


Sorry, but you must become a premium subscriber to view the rest of this post.

Join now by visiting the PREMIUM MEMBERSHIP link at the top of the page, where you can learn more about the benefits of a Blue Devil Nation Premium membership.