[private]Zack Asack -
On the turnaround on offense this season -
Our offensive line has been doing a great job selling both the pass and the run.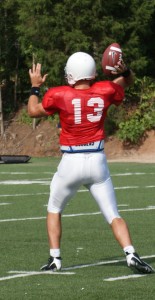 Being able to run the ball has definitely opened up the passing game.  Overall, the whole offense is getting better - everybody knowing their assignments and who to block.  When the holes are real big, it's easy to run.
On his role on the team -
I'm the back up.  I'm always ready to play and I'm always working as hard as I can every day in practice.  I'm always ready to go, but Thad is doing real well right now.  I have got some snaps in the second half which causes the opponent to switch up some on defense, so I try to make the most of it when I go in there.
On the lack of ACC wins and the Wahoo's -
We're 0-0 in the conference and we want to start 1-0.  Virginia is going to be a great contest for us.  It's one game at a time and we are totally focused on Virginia at this time.
Thaddeus Lewis -
You are coming off a performance that earned you offensive player of the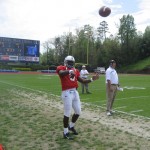 week.  How can you put the personal accolades behind you and focus on Virginia?
Personal accolades are a compliment but winning is the team goal.  I don't really look a it or read the paper.  I didn't even know it until my coach text it to me.  I just try to stay away from TV other than the games.  I just focus on us as a team.
Do you feel like you can carry over the momentum despite a bye week?
I'm pretty sure we will be ready.  The bye week is actually beneficial because some guys are banged up.  Some kids probably wouldn't have been able to play had we not had the extra week.
Has Coach Cutcliffe alluded to the fact that Duke hasn't won an ACC game in a while?
It's ACC week.  That's all he is saying that it is ACC week.  We are going to continue to do the things we do well.  It means a lot, it means a whole lot going into the ACC.
Is there more intensity?
He came out and let us know what time it was and what he expected out of us.  He's a straight forward guy and he tells us what we need to do better to prepare for the ACC.  If you do things right in practice it will just come to you naturally in the game.  He's done a great job of making me do that this week.
What's made you a better quarterback this season?
Just making smarter decisions.  Listening to what Coach has been saying.  So, doing the little things  right and going out there and doing the things I can to help this team win.
[/private]