[private]I sat down with Duke Senior leader Michael Tauiliili this afternoon.  Here are his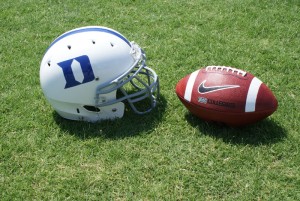 thoughts -
Do you guys talk about as a team that you haven't won an ACC game in your career?
Definitely.  Not because we haven't won one in awhile, but because it's an ACC game.  When you get into the conference everybody has aspirations.  We are all aware that we haven't won an ACC game since we've been here.  Looking back on it, I am a firm believer that everything happens for a reason and we are all working to win our first ACC game.
Is it a mental barrier?
Not at all.  The past is the past and we are all focused mainly on the present and the future.  We have to go one game at a time.  Coach always says we have to prepare for Saturday and this is only Tuesday.  That's what we are worried about, having a great day on Tuesday and then Wednesday and then Thursday.
Has coach said to treat this week like another game?
We are all aware that we haven't won one but he doesn't harp on it, but he has mentioned it.  What he has harped on is that we are in the conference now.
Do you think as a team you can carry over the momentum of starting 2-1 past the bye week?
Definitely.  We've had the taste of success and coach makes sure we know how to deal with that.  We stay hungry and prepare at full speed in practice and not take any plays off.  We are definitely taking that momentum into the ACC.  I think people know that they can't come in here and chalk it up as a "W" anymore and we are going to prepare as hard as any other game.  I just can't wait to go out there at 12:00 on Saturday.  Now, it's full fledged into the game week.
If I might go back to the Navy game ... you guys came out in the second half and dominated.  What was said in the locker room or what do you attribute that to?
It was definitely the coaches.  It's amazing to see how quickly they can make the adjustments on the chalk board.  Basically what was said is this is what they are doing to us and this is what we're going to change.
Last year's team didn't really make good adjustments, but so far this season Duke has outscored each opponent in the second half -
This coaching staff - we've got great guys on the sidelines and up in the booth.  The linebackers are always on the headphones with Coach Collins and we tell each other what we are seeing.  After the game against Navy, Coach Matt pointed out what coaches could see to change and adjust and that we are all in this together.  We are playing and they're making adjustments and making it fit together.[/private]