Tyler Thornton took the time to chat with Blue Devil Nation Premium last evening.  Thornton talked about his big weekend visit sharing his thoughts on his trip to Durham and verbal commitment to play for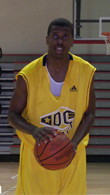 Coach K's Blue Devils.   In our previous talk, Thornton said that he had every intention of returning home to think over his choices.  In the end, far too many factors fell into  place, so he made his collegiate choice on the spot and he's glad he did.
When Thornton answered the phone, it didn't take long for me to tell there was a wide grin on the other end.  His Mom, who I talked to first said,  "I saw a comfort level in his body language during the visit and that led me to believe he was very excited and definitive with his choice. 


Sorry, but you must become a premium subscriber to view the rest of this post.

Join now by visiting the PREMIUM MEMBERSHIP link at the top of the page, where you can learn more about the benefits of a Blue Devil Nation Premium membership.

Additional comments will appear on Blue Devil Nation's Premium Message Board.  Talk about this article there.