[private]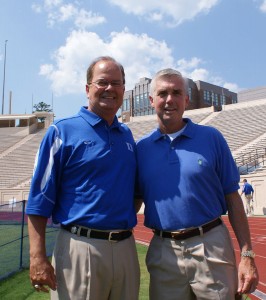 Duke lost that second half magic on the road against Georgia Tech this weekend and in the process dropped to 1-1 in the ACC and 3-2 overall.  The defense made enough plays to be in the game, but the offensive execution was the worst it had been all season in a 0-27 loss.
Quite simply, Tech's defensive front manhandled the Blue Devils and a lack of execution in all facets on offense spelled eventual doom.  "You're not going to win if you don't score," said a frustrated David Cutcliffe shortly after the loss.
Cutcliffe said in a Sunday teleconference, that his team had been practicing well, so until he saw them in a game situation on Saturday, he had no idea his team wasn't as prepared as they seemed to be during the week.
So, it's back to the drawing board for the Blue Devils, but before some of you fair weather fans abandon ship, take a few things into consideration.
1) No realistic fan expected Duke to go bowling this season.  Tempered expectations are a must for a team that was quite literally the ACC doormat.  Sure, we are to expect wins, but there will be learning curve and bumps in the road.
2) While the schedule is tough from here on out, you still play those last seven games on the field.  True, Duke might not be favored in more than one game at this time, but they have proved competitive in all but one half this season.
3) These kids are learning a new system and I for one think they have a pretty good grasp of it in a short time, although it can certainly get better.
Now, let's recap the season to date -
James Madison - Duke thwarted a Division II power in the Duke's.  JMU hasn't lost a game since then and currently stand 5-1 with a win over defending champion Appalachian State and chalking up sixty plus to nothing on Hofstra this past weekend.  This was a solid start for the Blue Devils, something fans aren't too accustomed to.
Northwestern - Duke won the game everywhere but the scoreboard.  This was a bitter defeat for victory was in their grasp.  Still, Northwestern entered the coaches top 25 this week at 5-0 and Duke had the better team everywhere but where it counts - the scoreboard.
Navy - Duke rounded the learning curve in this game, never saying die and proving off season conditioning helped immensely.  It was important for Duke to come back with a win after a close loss and they did.  The offense racked up some serious points in the process.  Navy went on to defeat Wake Forest and Air Force on the road and like Northwestern, they almost certainly will go to a bowl.
Virginia  - This 31-3 win snapped the dreaded ACC losing streak.  That would have been a great season by itself in the past several years.  When one takes a closer look at the stats, you can see a trend where the offense started to get out of rhythm, but the defense proved itself a worthy adversary after letting up 31 to Navy.  Virginia then went on to wallop Maryland, showing they aren't so bad after all.
Georgia Tech - Duke was very much in this game in the first half and the defense played well with the exception of a few cover situations.  Duke held down one of the nations top rushing attacks, but couldn't find any points or put together drives to keep the defense rested.  The end result was an ugly goose egg, but this was a game that could have gone down to the wire with a little production.  Georgia Tech, amazingly, is still not ranked after a 4-1 start.
Dukes first five opponents are 20-7 overall to date which isn't bad!
The reason I am going into a lot of this is that I find it interesting that a trip around the message boards have some calling Miami a must win or a disgusted few saying it is doom and gloom and or the same old, same old.  Trust me, it is a good sign that some of you are aching, for it shows a couple of things.  It means that you care enough to where the losses are painful and proves that the sweetness of success is a good taste that makes the losses tougher.
I could say Rome wasn't built in a day, but let's just state the facts.  Duke is playing a lot of young players at skilled positions, yet most teams are able to red shirt these kids.  What this means is that the talent level has a ways to go before we can let the newcomers season and mature like Wake Forest and Vanderbilt and the traditional powers are doing.
Make no mistake though, Duke is moving in that direction, but it is not an overnight patch job.  One of the things which has stuck in my mind was hearing new AD Kevin White say he worried about fan expectations in which he may have had the foresight to see what might develop.   When thirsty fans tasted a couple of wins, they naturally want more.
Just this past week, the New York Times was checking in on Duke Football.  Many media outlets were talking up the Devils as well.  This too, was both good and bad.  It was good in that Coach Cutcliffe has improved a team which many felt was an impossible task.   And he is winning in just one season.  Duke is no longer a team everybody wants for homecoming.
The bad is that Duke is in the process of learning how to win and become a football team and they are not ready for prime time just yet.  They will have to continue to work hard in practice.  But it is more than just on the field improvements which need work, but a plan is in place.
That plan but it will take some time and work.  There will be some occasions, we'll get a butt whooping which generally makes players coaches and administrators want to work harder.  As fans, we must work as well and that job entails being there supporting and growing with this team.
With the administration showing a willingness to improve facilities and change the culture., the team needs continued support.  The staff is already making significant in roads with recruiting as well.  In short there is a foundation which a loss to Georgia Tech or any upcoming opponent cannot derail.
This is a pretty good football team with seniors which will pick them back up and I guarantee you no coaching staff is working harder on or off the field than Cutcliffe and company.
So, temper your expectations a bit, but expect some measure of success for this team can win some football games.  There is no reason for fans not to turn out in force for an attractive remaining home schedule with just three games left.  I know, I will be there when Duke takes on Miami in two weeks and it'll be interesting to see if the team rebounds.
One thing I can tell you  for certain is this team will not quit.
Late note - Another sign of progress is that the Miami at Duke game has been picked up by ESPNU for a 3:30 time slot.  This will be the third nationally televised game in a row.[/private]