[private]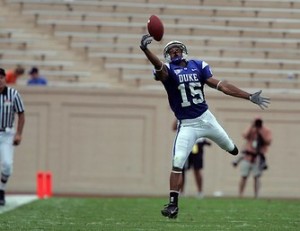 Duke travels to Winston-Salem this Saturday for an afternoon showdown with the Wake Forest Demon Deacons. Wake enters the game as a 7.5 point favorite despite coming off back-to-back losses to Maryland and Miami. The Demon Deacons have lost three of their last four games after opening the season with three victories. Wake Forest has been ranked as high as number 15 in the USA Today poll this season, but fell out of the top 25 after their Week 8 loss to Maryland. Duke will be attempting to win back-to-back road games for the first time since the 1994 season.
Both teams enter the game with four wins and three losses, and they have played two common opponents: Navy and Miami. Duke beat Navy, 41-31, in Durham, while Wake Forest lost, 24-17, at home in Winston-Salem. Both teams lost to Miami. Duke dropped a 49-31 decision at home, while Wake Forest lost, 16-10, in Coral Gables. In discussing the game, Duke Coach David Cutcliffe said, "The challenges continue to get bigger – we're playing a Wake Forest team that's very talented, a very experienced team. They can beat you a lot of ways, they can beat you with their defense, they can beat you with their kicking game, and they can certainly beat you with their offense."
Wake Forest is struggling on offense and is currently last in the ACC in scoring at 17.4 points per game. The Demon Deacons are ranked 10th in total offense averaging 303.7 yards per game. Like Duke, they have struggled to run the football. Wake is 10th in rushing offense averaging 109 yards per game on the ground. Over their first six games, Wake Forest ran out of the spread offensive set, but against Miami they shifted to the Power I and rushed the ball 52 times for 195 yards. Tailback Josh Adams ran for a career high 111 yards on 21 carries. This complicates Duke's defensive preparation for the game as they must be prepared to defend both offensive sets on Saturday.
The Wake Forest players held a players only meeting this week to discuss the recent tough losses and ensure everyone was focused toward the five remaining games. At Tuesday's press conference, Coach Jim Grobe discussed the meeting, "Our seniors are running out of time. We've got five games left. I think they feel a little bit of pressure right now to perform down the stretch." Coach Grobe also discussed the spread offense saying it hurt them against Navy and Maryland, and then stated the offense wasn't diverse enough in the loss to Miami. "A little bit of balance would be good."
Duke has allowed opponents to score 21.1 points per game while gaining 341 yards. They have given up an average of 193 yards through the air and 148 on the ground per game. Duke's defense gave up over 200 yards on the ground to Georgia Tech (224) and Navy (207), but was much stingier in their other five games by allowing an average of 122 yards rushing per game. Shutting down Wake's rushing game will be a priority so Duke can win the Time of Possession battle and keep the defense rested and effective through the Fourth Quarter.
Linebackers Michael Tauiliili and Vincent Rey are number one and three in the ACC, respectively, for tackles. They will need big games this weekend to ensure the Demon Deacons continue to struggle offensively. Duke has 11 interceptions on the year but injuries are starting to take a toll on the secondary. Leon Wright aggravated a hamstring problem against Vanderbilt and Lee Butler is banged up. Defensive end Ayanga Okpokowuruk recorded two quarterback sacks in the Vanderbilt game and he and the rest of the defensive line are going to have to apply pressure to Wake Forest Quarterback Riley Skinner. Duke has recorded 13 sacks on the season.
Duke has struggled in the Red Zone this year and must improve in this area to be successful in November. Over the first seven games of the season, Duke is last in the ACC in red zone offense scoring 18 times out of 29 opportunities. Coach Cutcliffe has stated this team will be defined by their performance in November and if Duke is going to win games against ACC opponents in November they must take better advantage of scoring opportunities. Last week Duke blocked a punt and took possession on Vanderbilt's 13 yard line and ended up with zero points after a missed field goal. Earlier in the game, Michael Tauiliili intercepted a pass in Vanderbilt territory, but Duke failed to convert the turnover into points.
In an earlier interview with Blue Devil Nation, Duke Quarterback Thaddeus Lewis discussed the game, "I think consistency and execution will be the key in this game and the team that has the fewest mistakes will win." It might be more accurate to say the team that takes advantage of their opponent's mistakes will win.[/private]