[private]How will this year's team have a deeper tournament run?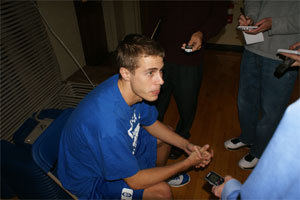 Last year we questioned ourselves a little bit and had an up and down season.  This year we realize how good we can be.
What happened last season?
We did have a great year last season until we lost our confidence in the tournament.  As a team some of us believed we were good in the press ... we are not missing any pieces this year.
What do you and the other captains bring to this season's team?
We can all work off each other.  Gerald does so much on the court and he's a great guy.  He's somebody we can look up to because he's so good.  He's a competitor and we play off that.  Greg being a captain before - his experience is so valuable.  Myself?  I'm just going to use my instincts.  These last few years I feel I've learned a lot and just being able to share that with the team.
What's the process one goes through to be a captain?
The team voted on it and the coaches made the ultimate decision.  Your teammates have your back and support you, so that's good.
How is this season's team different from last year?
I think the biggest thing for us is that we are a different team this year.  We're going into it fresh, with a lot of confidence.  You have to be confident and believe in yourself as an individual and as a team.  This summer, just looking around in the locker room we realize how good we are.  The freshman add some athleticism - we just feel confident.[/private]