[private]Abby Waner hit a three point shot in the opening  minute of the game and Duke never looked back, in route to a 96-31 blowout.  The Blue Devils went on an early 15-1 run and rode that to a 47-12 halftime lead. 
The stats at the break said it all.  Duke out rebounded the Bears 28-14 and made a living at the free throw
stripe hitting 16 of 20.  The Blue Devils stifling defense put a vice grip on the visitors who struggled to 4 made field goals in just 20 shots.
The second half was similar to the first with Duke outscoring Maine 10-0 in the first minutes.  The game gave Coach McCallie the opportunity to to play all twelve players.  This allowed freshman Kathleen Scheer, Chelsea Hopkins and Shay Selby to get significant minutes.
Scheer had 9 points, 7 rebounds and 2 assists in her college debut.  Shay Selby had 7 points and 2 assists.  Perhaps the most productive freshman was Chelsea Hopkins who tallied 9 points, 4 rebounds and 4 assists.
"It's always great when you can go deep into your bench and give everyone some positive experience.  It's one thing to get positive experience, it's another thing for people to take advantage of it.  It's one thing to get some playing time, but another to be extremely productive and very intense during your time on the floor.  I thought this group really did a super job attacking and going to strengths," said McCallie.
It was also a milestone for senior Chante Black in that her opening basket was her 1000th career point.  That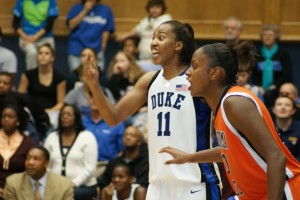 basket came via assist from fellow senior Abby Waner.  Black also moved in to the top ten All Time Leading Shot Blockers in the ACC with a total of 4. 
Black was the teams high scorer with 16, fellow senior Waner had 9 points and 5 assists.  Thomas had 13 points. Cheek 10, Jasmine Thomas and Gay 7 apiece and 6 for Mitchell and 5 for Jackson. 
The Duke defense caused 38 Bear turnovers and held them to 23% shooting for the game.  They out rebounded Maine 56-17 and had 23 assists to just 5 for the opponent.  Duke had 27 second chance points and 19 more from the fast break.    The Dukies outscored Maine 50-14 in the paint.  McCallie won her 343rd game as a coach.
Black has a total of 1015 points in her career.  Abby Waner tied Vickie Kraphol in all time thee pointers for Duke and is 25th in the ACC.  Careem Gay hit her first career three pointer.  Joanne McCallie coached the Bears head coach, Cindy Blodgett in her stint at Maine.  The Blue Devils move to 2-0 for the season and will now head to Chicago, Illinois for the DePaul Invitational where they open with Hartford on 11-21 at 6:30 PM CST.[/private]