[private]The Blue Devils take on Georgia Southern at 9:00 in Cameron Indoor Stadium to see who advances to New York in the 2K Sports Classic semi finals.  Duke looked a bit sluggish in last evenings 80-49 victory over Presbyterian and they face a Georgia Southern squad that defeated Houston 65-63.
One of the key players for the Eagles will be Sandy Perry (6-7), a junior front court player who scored 12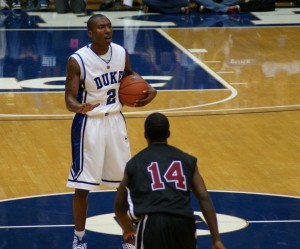 points to go with 4 rebounds.  But the main man is Trumaine Pearson (6-8) who is an experienced senior.  Pearson scored 19 points and grabbed 11 boards, anchoring the post for Georgia Southern.
Willie Powers (6-0 sophomore) runs the show with Antoine Johnson (6-0 Junior).  Powers had 14 points and four rebounds in the opener, while Johnson struggled from the field, but led his team in assists.    Julian Allen is a (6-4 Senior) swing-man which plays a key role as well.
Georgia Southern connected on 80% of their free throws and 37% from beyond the three point stripe in their opener.  Georgia Southern is 0-1 against Duke, losing 87-75 in Cameron in 19-86.
What to expect - Duke should play a bit better in tonight's contest, but the Eagles have enough talent to contend throughout the game.  This is clearly the best team the Devils have played to date.  Duke will need to hit the boards and keep Pearson from going off inside. 
My pick is Duke 92 Georgia Southern 64
Bob Green's Pick - Duke 84 Georgia Southern 56[/private]