[private]The Duke Blue Devils survived Rhode Island's best shot on Sunday, and came away with a 82-79 win.  Of course it took quite the effort from the Dukies as well, namely Jon Scheyer and Kyle Singler.  Singler twice hit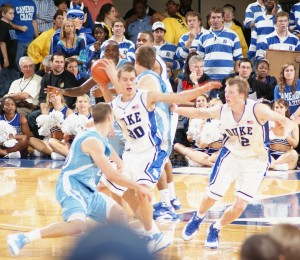 two critical free throws to put Duke ahead at 78-77 and 80-79 on his way to 21 points, 5 boards and 5 assists.
"I tried clearing my head. You can't let anything get to you. I knew we were down on all four them. I needed to sink them for the team to win. I stepped up with confidence and knocked them down," Said Singler.
Scheyer drained 13 of 13 free throws including 6 of 6 with 3:18 remaining in a game that was on the line.  His biggest two came with three seconds left giving Duke the lead for good at 82-79.  Scheyer was also the Blue Devils leading scorer with 23 total points.
In a game that had a tournament atmosphere, Duke had to claw their way back time and time again.  While the lead changed hand just 9 mes, the game was intense from the opening tip.  In fact, Duke found itself trailing most of the contest. 
"As good as the players were for both teams, the crowd was right there. This was a big time crowd today. Our crowd helped us so much today. They were fantastic. It was one of those February games in November. It's a big-time game today. I don't know how you get prepared for a game like this until you get in it. I thought in those last five minutes we did everything right, which you can't practice, you've just got to be there," said Kryzewski just minutes after the game.
Krzyzewski continued,  "We're lucky to have Dave [McClure] and Lance [Thomas]. They just played so hard. Greg was in a tough position today because two days ago he really hurt his arm. He took a charge, and his arm swelled so much he couldn't move his hand. This was Friday, and he kept ice on it all night and some of the swelling came down and yesterday he was able to somewhat close his hand and then he spent all night and today icing to where in our shoot-around he shot it a little bit. That kid played with a lot of guts today."
 Fo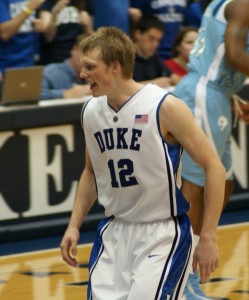 r a while it seemed as if the Rams would pull the shocker as they took a punch and countered time and time again.  Jimmy Baron, the coaches son, put on a dazzling display of ways to get off three point shots, going over the Duke defense for 24 points. "He's a great player. We wanted to win so bad and we'd get it down to a two-point game and then he'd hit a three and it'd go to five.  We would come back down and score and then they would score.  It was a game where it was hard to stop people," said Scheyer. 
Barons teammate, Delroy James added 21 on 9 of 12 shooting, many on pull ups which barely moved the net.
In the end, it was Duke's patented man to man defense that finally made Barron moveoff the dribble.  As he drove the lane, he was forced to alter his shot, missing badly with 10 seconds left in the game.  Kyle Singler, then made the games biggest block and Duke grabbed a team rebound and held on after Scheyers aforementioned clutch free throws.  "
Ultimately, we knew we were getting good shots and opportunities.  We just needed to get stops," stated Scheyer.
The game had a tournament atmosphere and the Cameron Crazies were on top of their game, giving the team a huge lift.  In short, the game is an early season instant classic in that an inspired Rhode Island  squad had the crowd sitting on pins and needles until the final buzzer.
Duke went with just eight players for the most part in that Coach K obviously felt comfortable with his veterans against a team filled with junior and seniors at the key positions.  Duke had just two points on the fast break because the Rams game plan was to get back on defense and run when they could.
Duke made a living at the free throw stripe going 28 of 32, a sizzling 87.5%.  The Blue Devils were out rebounded by 2 boards, but out scored the Rams in the paint 38 to 26.  The Devils struggled from the three
point stripe going just 4 of 17 for 23%.  On the other hand, the red hot visitors were 10 of 14 for 71.4%, a stat any coach would love.
Duke valued the ball down the stretch and ended the game with just 10 turnovers as Coach K's mentor, Bobby Knight looked on from the sidelines.  Knight and his wife are visiting with Krzyzewski before he works the Kentucky at UNC game on Tuesday evening.
While some fans on the various message boards are complaining a bit, thinking it is Duke's birthright to win blowout after blowout, they are failing to see is how much a game like this can help a team grow.  Duke took an inspired teams best shot, yet dug deep to win with a ton of adversity.
This game taught the team many lessons and Coach K will use this contest to his advantage in preparing his team for Southern Illinois, another tough team, in New York on Thursday.   More importantly, Kyle Singler and Jon Scheyer stepped up and showed they are true leaders on this team.[/private]