[private]Anytime there are 48 turnovers and 46 fouls in a game, it's going to be ugly on the eyes.  Duke opened -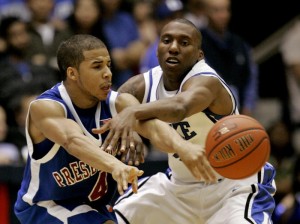 the new season with a sloppy 80-49 win over Presbyterian in the Coaches vs Cancer 2K Sports Classic.  The Blue Devils were out of sync on the offensive end of the floor, missing open players and committing an bevy of turnovers. 
"We committed 21 turnovers.  That's a lot of turnovers for a team that's not pressing us.  A lot of our turnovers were self inflicted wounds.  We just gotta get better," said Kyzyzewski shortly after the opener concluded.
While a 32 point victory is good from an average teams standards, it is not from Duke standards.  One must consider that this is the second earliest start in history for the Devils and Coach K is still experimenting with various combinations.   In short, they are working out the kinks.
Kyle Singler was the clear choice for the player of the game.  Singler tallied a double-double with 19 points and 10 rebounds to go with 2 blocks and two steals.  Nolan Smith, who was the starting point guard, added 15 points on 6 of 7 shooting from the field to go with 3 assists.
Duke started slowly, the game being tied at 2-2 with just over fifteen minutes left in the half.  They rode a solid defensive effort to close out the half with a bang.  The aforementioned defense accounted for 27 Blue Hose turnovers and several steals.  Duke held their opponent to 30% shooting as well.
A bright spot was the play off the bench for Lance Thomas, who hustled his way to 12 points and 5 rebounds.   Miles Plumlee, getting his first start as a freshman went scoreless.  Jon Scheyer added 12 key points, almost all of them in the first half when Duke couldn't find their mark.
Gerald Henderson struggled to get into the flow as well, scoring just 6 points.  Brian Zoubek foulded out with just two points.  Paulus added 4 points and 3 assists, Czyz also had 4 points to lead the freshman in scoring.   Williams and McClure had 2 points apiece.
While many fans might fret and dissect the team after a lack luster performance, you can bet that they will be ready to play tomorrow evening when they take on Georgia Southern, a winner over Houston.
It seemed as if the team didn't allow the game to come to them on offense and more passes could have been made.  Several shots went halfway down and popped out and it's been awhile since Duke hit just 3 three point shots.
All of the mistakes are correctable and most of them will take care of themselves as the team moves along this season.  By tomorrow evening, I expect fans will remember this game as simply a win.  The reason is that it will be quickly forgotten if Duke takes care of the ball and works as a team to advance to New York.
____________________________________________________________________________________________
Official Box Score link from GoDuke.com
K-ments -
- "You hope [the defense] is always ahead of the offense, because it can produce offense. You have a chance to win if you play good defense. It was almost as if we were trying a little too hard on the offensive end at times. It comes. It's our first game."
- "I thought we played really hard, but it's like when you watch any game that has good defense and the offense isn't that good, you don't think it's that good of a game. But if the defense stinks and the offense is good, you think you went to a hell of a game. It's like 9-8 in baseball, 33-30 in football – and that 10-7 game just stunk. And so I think that's part of it. I thought we did have spark. We played really hard, or else we wouldn't force 28 turnovers, but that didn't translate to being fluid on the offensive end. We had 35 points off turnovers, and that's when we had a numerical advantage. When their defense was set, I still thought we were trying to force things."
- "I'd like to see some made lay-ups and the extra pass and to take better care of the ball. I don't fault any kid. They're playing hard. But in order to get better, you have to take responsibility and be accountable – we can play better offensively and that's the only way you get to be really good. We want to be really good."
- "I'm a big basketball-gods guy. I think sometimes you get punished – you miss layups and when you don't see that open guy. We had that run in the first half, we were up 32-11, and four of the next five plays we had a guy wide open. We didn't make a bad play, but it wasn't the right play, and that just comes from playing. Hopefully we'll make those plays."
Kyle Singler -
- "This team is very competitive.  I think that's one of our strengths – we just love to play and compete.  But tonight it just wasn't there.  That's on us.  Our standards weren't met tonight and we've just got to come back tomorrow with a different mindset and attitude."
 - "I did miss a lot of opportunities, but I'm not going to dwell on it.  It's a team game, and we just have to move on."[/private]