[private]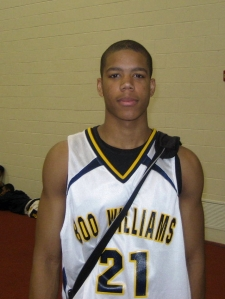 The Virginia-Pilot says anything short of a state title will be a disappointment for Shores this season. The Seahawks are led by junior guard Andre Dawkins. The 6'5" Dawkins was second team All-Tidewater last year and has given a verbal commitment to play basketball at Duke. Senior Steven Pledger, who has signed a Letter of Intent to attend Oklahoma, is Dawkin's back court mate. Atlantic Shores plays in the private schools league but the Virginia-Pilot ranks them as the third best team overall in South Hampton Roads.
Andre Dawkins scored 25 points as the Seahawks opened their season with a 66 - 32 victory over Wilson. Pledger chipped in 20 points. Atlantic Shores is back in action on Monday December 1st as they open up conference play at Stonebridge.
Ryan Kelly has scored 32, 31, and 28 points in three Ravenscroft victories to open the season. They defeated Northern Durham 76 - 57, Greenfield 75 - 68, and St. David's 82 - 48. Kelly has also had double digit rebounds in each game including 14 in the St. David's game.  A couple of key dates to look toward are January 7, and February 4, 2009, when Ravenscroft travels to Word of God, the school which features John Wall the nation's number one rated high school prospect according to Rivals.
Ravenscroft, Word of God, and Christ School will all participate in the GlaxoSmithKline Holiday Invitational starting December 26 and running through December 30. This is an opportunity for fans to see Duke Commitments Mason Plumlee and Ryan Kelly plus recruiting target John Wall in action against each other. Tournament games will be played at Broughton High School's Holliday Gymnasium.
Brandon Knight and Pine Crest High School played their first game of the season on Wednesday November 26 and Brandon Knight made five three pointers and scored 36 points as the Panthers defeated Northeast 76 - 62. Knight is a true point guard and a coveted member of the Class of 2010. Duke is one of many colleges recruiting the talented player.
This excellent article from the Miami Herald discusses Brandon Knight and Kenny Boynton and is a must read for anyone interested in high school basketball. Knight and Boynton are two of the best players in the nation and AAU teammates, but during the high school season they go against each other head-to-head multiple times. Brandon Knight led Pine Crest to victory in three of four meetings against Kenny Boynton and American Heritage last season.[/private]