[private]LOS ANGELES, Calif. -- The eighth-ranked Duke women's basketball team registered one of its largest comebacks in school history on Friday night at the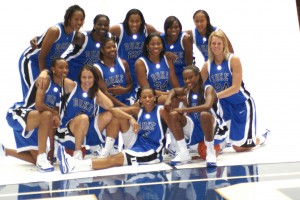 Galen Center in Los Angeles, Calif.  The Blue Devils faced a 17-point deficit with 11:17 remaining in regulation but came back to win 97-89 over Southern California in overtime.
Senior Abby Waner hit a three-pointer with 17 seconds remaining to cut the Trojan lead to 81-80 and nailed a short jump hook with three seconds left to send the game into overtime.  Duke outscored USC, 15-7, in overtime to register the victory.  Sophomore Jasmine Thomas scored a career-high 22 points, while Chante Black notched 22 points and Carrem Gay added 14 points and 12 rebounds for Duke.
Duke will next face Siena (2-7) on Saturday in the Women of Troy Basketball Classic at 10:00 p.m. (EDT).
---
Blue Devil Postgame Notes
#8/12 Duke at Southern California  *  December 19, 2008
With The Duke Victory:
*       Improved to 8-1 on the season.
*       Coach P improved to 2-1 all-time against Southern California.
 Senior Chante Black
*       Registered double-figure scoring for the ninth straight game to open the season.
*       Posted 22 points marking the second time this season she has notched 20+ points.
 Freshman Shay Selby
*       Hit a career-high two three-pointers on two attempts and finished with a career-high 11 points and five rebounds.
 Senior Carrem Gay
*       Pulled down a season-high 12 rebounds in 38 minutes to go along with 14 points.
*       Posted nine offensive rebounds on the night.
*       Notched her second double-double of the season and fourth of her career.
 Sophomore Karima Christmas
*       Coming off scoring a career-high 14 points against No. 3 Stanford, she scored nine points, had five rebounds and two steals in 14 minutes.
 Sophomore Jasmine Thomas
*       In her second game back from her knee injury, registered 10 first half points and went on to finish the game with a career-high 22 points.
Senior Abby Waner
*       Scored five straight points to close out regulation to send the game into overtime.  Finished with 10 points for the game.
 Freshman Chelsea Hopkins
*       Missed the game due to surgery on her left knee, which was an injury that occurred at Western Kentucky on Nov. 28.
.
Other Duke Notes:
*       Trailed by 17 (66-49) in the second half, which was the largest deficit of the season for the Blue Devils.
*       Posted its largest come-back since being down 20 at Connecticut on Jan. 3, 2004.
*       Notched five double-figure scorers for the first time this season.
*       The 97 points was the most scored by a Duke team coached by Joanne P. McCallie.
*       Allowed 41 points and a 44.1 field goal percentage in the first half, which were the second highest totals on the season.
*       The 53.6 field goal percentage in the first half was the second-best this season by the Blue Devils.
*       Turned the ball over 14 times in the first half and finished with 29 for the game.
*       Scored a season-high 45 bench points.
*       Allowed a season-high 43.1 field goal percentage.
*       Had a season-high 97 points, but tied a season low with eight assists.
*       Allowed a season-high 89 points for the game.
*       Hit a season-high seven three-pointers.
*       Played in its first overtime game since April 4, 2006 in the National Championship game
*       Assistant Coach Shannon Perry made way back to USC for the first time since she was an assistant coach with the Trojans from 2000-04.
*       Duke next take on Siena on Saturday, Dec. 20 at 10:00 p.m. (EDT) to close out the Women of Troy Basketball Classic.
---[/private]