[private]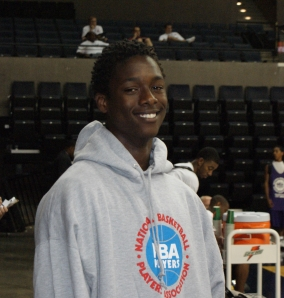 Harrison Barnes and the Ames High School Little Cyclones have their sights set on the State Tournament this year. They took the first step in their journey with a 66 - 34 defeat of Urbandale. Barnes scored 16 points in the game including nine in the first quarter as the Little Cyclones opened up the game with an 18 - 2 run. The Des Moines Register has very nice Harrison Barnes overview and picture gallery posted.
Barnes scored a game high 19 points on Friday night as Ames improved to 2 – 0 with a 61 - 31 victory over Roosevelt.
Brandon Knight is filling up the box score for Pine Crest on a routine basis. This past week he scored 29 and 43 points in two Panther victories. His 43 points in a 70 – 67 win over Choice Academy included seven three point shots, while he sank four three pointers and dished out seven assists in his 29 point performance in the 66 – 29 win over Coral Springs Charter.
Andre Dawkins scored 28 points as Atlantic Shores defeated Cox 93 – 68 in the opening round of the ASCS Tip-off on Thursday evening. He followed up with a 23 point performance on Friday as Atlantic Shores defeated Tallwood 69 - 66.
Ryan Kelly continues to put up extraordinary numbers. On Wednesday, he had a triple-double of 38 points, 10 rebounds, and 12 blocked shots in a 76 – 64 defeat of Riverside. On Friday night, Kelly scored 19 points in a 59 – 42 win at Providence Day. Ravenscroft is now 5 – 0 for the season.
Mason Plumlee scored 21 points to pace Christ School to an easy 77-45 victory over Spartanburg Day School. Plumlee made two three point shots in the contest. Mason's younger brother, Marshall, contributed 10 points and three blocked shots. On Friday night, Plumlee scored 12 points, grabbed eight rebounds, and blocked eight shots in a 79 – 54 road win at Forsyth Country Day. The Greenies desire to go 38 – 0 and win a state championship this season. Christ School will match up against Ravenscroft on December 20, 2008, in Columbia, S.C.
The Washington Post has an enjoyable Tyler Thornton video posted. Gonzaga College High School has opened their season with a pair of wins. On Thursday night, Thornton scored 11 points in a 79 – 44 win over St. Albans. In their season opener, Thornton scored six points in a 69 – 40 decision over Sidwell Friends. Unfortunately, the box scores do not include assists as Thornton is a pass first point guard and his assists to turnover ratio is the key statistic for Duke Basketball fans.
Finally, Josh Smith and Kentwood High School played their first game of the season on Friday night.  Smith scored 32 points in the 68 - 47 victory over Kent-Meridian.  The Seattle Times ranks Kentwood as the number five team in the state.[/private]