[private]Ravenscroft won their third consecutive game by disposing of Panther Creek 77-53.  The Ravens put on a shooting clinic for much of the game ending up 73.5% from the field and a whopping 77.8% from the three point stripe.
The Ravens lost their first two games of the season during the Chic-Fil-A Invitational before winning their final contest of the event.  Those losses did not settle with Coach Billerman and his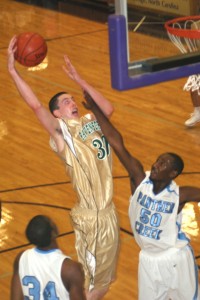 team and thus far they've played with a chip on their shoulder in the continuing Glaxo Invitational in Raleigh, North Carolina.
"This is the type of basketball I think we can play.  We started the game against their trapping defense hitting some wide open shots.  We held them to four offensive rebounds and if we can do that every day, we'll be hard to beat," said Billerman shortly after the contest.  The Ravenscroft Coach continued, "In my nine years it may have been the best game Ravenscroft has played."
Part of the resurgence can be attributed to their go-to player, Ryan Kelly. The Duke commitment scored a game high 30 points going 11 of 14 from the field to go with his 5 rebounds and two assists.
Kelly was 11 of 11 before missing a three point shot to break the streak.
"We got good shots early on and the whole team was knocking them down," said Kelly.  "We were pushing the ball real well today and shooting as good as we did from three is pretty amazing."
Luke Davis also asserted himself with 20 points, while Panther Creek was led by Auburn commitment Earnest Ross with 29 points.  "We are a good passing team when Luke has his energy.  A lot of people don't know that he has been really sick.  At Chic-Fil-A in South Carolina he wasn't himself but I thought you saw a pretty complete player today who was able to penetrate past their guards and allow others to score," said Billerman.
Ravenscroft now has a chance to win their bracket championship on Tuesday evening and carry that momentum into the rest of the season. "It means a lot to Ravenscroft.  Playing for a Glaxo Championship is something we'll talk about over the break and we'll give our hardest effort in order to do that."
Kelly later told BDN, "We wanted to come in here and show some people something.  It's important because a huge chunk of the City of Raleigh is coming out to watch these games and they want to see a championship game between two good teams and we are happy to be one of them."
The Ravens will play the winner of the Centennial-Knightdale game which will be played at 5:40 today.  The championship game will start at 7:20 on Tuesday.  In the other bracket, tonight's Christ School-Kinston winner plays in the nightcap versus the winner of Word of God or St. Raymonds.
For an in depth one on one interview with Ryan Kelly, join Blue Devil Nation Premium and get complete inside access.  There are already premium articles and interviews up with Plumlee and John Wall.  Members also have access to our message board where we will be blogging live from the event.  For some of the best recruiting and inside new available, join today and see what you are missing.[/private]