[private]The buzzer sounded in Cameron as the Duke Women upset the third rated Stanford Cardinal 56-52.  As one might expect several of the victorious Blue Devils ran about the court in glee, but not Coach McCallie.
After Stanford coach Tara Vanderveer gave McCallie a cold fish hand shake, the second year Blue Devil coach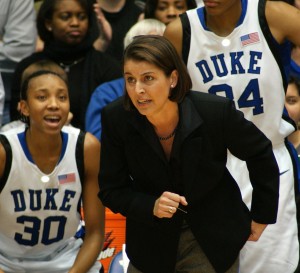 calmly walked off the court, glancing back at her players as if to say we have to get on a flight to Los Angeles tomorrow to take on Southern Cal and Sienna in back to back games.
It was one of McCallies three most impressive wins as a coach at Duke.  The other two, Maryland and Rutgers came last season and she obviously has hopes that there are more big wins to be had as the season progresses.
During the press conference McCallie, known to most as Coach P acted as if she expected to win over one of the countries better programs.  She certainly praised her teams defensive effort which included a suffocating array of pressing defenses which resulted in 23 Cardinal turnovers.
McCallie also praised her teams effort on the boards where they completely dominated the glass after being dominated on them in the first half.  She mentioned the effort of both teams in what was a physical match up.  In fact, Stanford Coach VanDerveer more or less whined about bodies hitting the floor just minutes before.
What McCallie didn't do was respond to any questions concerning the losing coaches comments, nor did she seemingly act any different with this victory than proceeding ones this season.  She instead kept the focus on her team and she once again prefaced her opening comments with "We can do a whole lot of things better.""
While McCallie may not have tipped her hand with a broad smile after the victory, she had to be elated with the victory.  it was a big step towards her goal of continuing to prepare for a deeper run in March.  She was clearly already thinking of the next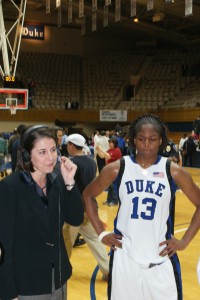 game and while I don't know this for certain, the message to the team may have been we are supposed to do this, we are going to win like this and lets act like it.
So in a night where the ESPN camera crew asked her to come back out for an interview in front of a nationwide audience, McCallie served notice that her "smack you in the mouth" defense is a new, firm and solid staple for the program and that Duke can succeed with that style.
More importantly her team has developed depth, confidence and is playing together.  The Dukies seem poised to turn another corner but to do so they must put this big win behind them and be ready for a quick turnaround, flying cross country to take on USC.
Judging from last nights performance and comments, Coach P recognizes this and hopefully her team realizes that consistency and two wins out West, will move them up the ladder one step closer to the top.
_____________________________________________________________________________________________
Duke climbed to 8-1 on the season and won their 26th game versus a non conferences opponent out of the last 27 home games.  McCallie holds a 3-0 record versus Stanford Coach VanDerveer and won her third contest against a top five ranked team in under two seasons at Duke.
One of the stats which stood out was the fact that Duke outscored  a tall Stanford team 12-1 on second chance points.
Duke came up big at the free throw stripe as well going 17-22.  Duke also won the battle of the boards 40-39 after trailing 22-11 at the half.
The Games MVP - Sophomore Karima Christmas had a career high of 14 points and a career high of 9 rebounds as well.  She hit here first three pointer of her career and ended up 2 for 2 betond the stripe.
Duke next plays at Southern Cal on 12-19 in a game televised on FSNW.[/private]