[private]Duke played it's best game of the season in a route to a 82-64 win over the seventh ranked Xavier Musketeers. It was a game where they put it all together on both ends of the court.  Be it stifling defense or the extra pass, these Blue Devils came to play.
"Our kids played a heck of a game. The defense was outstanding. We talked so well and had switches and we played off their five to clog up the lanes so we wouldn't foul. They were averaging 35 free throws a game because they are so balanced and they are a really good team. Offensively,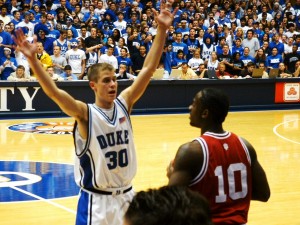 we really executed well. Our two wings had fabulous games. (Jon) Scheyer and G were outstanding. Brian had four blocks and had some really nice passes. We played really well as a team and we beat a real good team. I am happy about our team coming off the exams. I thought the Asheville game really set us up for this because we had a great second half against Asheville," said an elated Krzyzewski.
The Devils play in the first half was pristine perfect as they had their way opening up a 22-3 lead before Xavier made a single field goal.  The run proved to be a knock out punch for Xavier never recovered and two late game threes made the margin look closer than the game actually was.
When asked of his teams first half play Krzyzewski stated,  "It's one of those halves that's unexpected against an outstanding team. We were very well prepared. Our team mentally took a step up, I could feel it. They prepared so well these last two days. I knew we were going to play well, I didn't know we were going to win because they are a good team. We played great. You know what I think with Jon?  Jon wants to be a player that sometimes doesn't look for a shot and by the time the shot is there the place he is looking for, the shot passed. He should look for a shot first and then make a play. If he didn't have a shot, he can make a play. Jon's been a good leader for us."
Scheyer was clearly the player of the game for Duke where he scored 23 points on 9 of 11 shooting and had 16 of those points in the first half. 
When asked of his play Scheyer stated, It felt good. "I don't feel like I've been getting many bounces this year. It's good when you get a win like this. We played really together and made the extra passes except for maybe the beginning of the second half. Besides that, we made the extra passes, played together and we created shots for other people rather than create them for ourselves. That's a big dimension that our team has had recently. It was big for us. Every night when we step on the floor we have to play like we did today.
If the team plays as it did today, then it will be hard not imagine not seeing them in the Final Four.
Link to Official Box Score  We'll have more on the game later -[/private]