[private]The Blue Devil Nation brings you an afternoon question and answer session with Duke point guard Nolan Smith -
Hey Nolan, how are you!  So, you're ready to get back on the court?
Yeah, yeah.  Since the loss at Michigan we've been practicing hard and competing.  Now it's time to get back out there and take care of the opponent.
I see you guys were practicing in Cameron instead of the practice facility today.  Was that to get acclimated to the environment again?
Yes, it's better to practice where you are going to play to get acclimated to the rims again.
You've had a long time to think about the Michigan loss ...
As a mature team we are ready to bounce back and play the way we did against Purdue.  Having the days off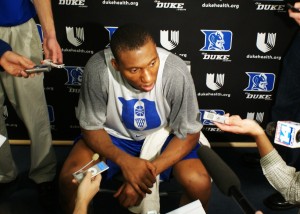 we got back to the fundamentals.  It's going to help a lot - we've worked hard.  We had some regular team practices for an hour and a half or two hours.  We've had some individual workouts.  The last two days have been team practices after we've been done with exams.
Can you talk of the progress you've made after being a backup last season and now starting?
It took a long summer with effort and hard work.  I'm proud of myself, I've really stuck to my game and hopefully we can make a run towards the national championship.  My team is proud of me and I plan on getting better as the year goes along.  This summer I went to Philadelphia and worked out with Michael Beasley and De Andre Jordan.  We spent days lifting and playing in the morning sna evenings.  I left my family for the summer to be with them, but that's the kind of sacrifice you have to make sometimes.  I'm very confident.  I'm confident with the ball, my defense and everything I do.
Do you get along with Greg Paulus or is it a rivalry between you two?
I get along great with Greg.  We push each other in practice.  This last week has really been a battle for both of us.  We both want to get better going into this ACC and last couple of non conference games.  We are pushing each other to get better and Greg has been playing great in practice.  I think you will see a lot of him come the UNC-Asheville game.
Has the team gotten together after the Michigan loss and said, okay we've got to get it together or get past this?
Yes, we had about a two hour meeting as a team to take a look at ourselves and talk about certain things from that game and standards we have to live up to.  We can;'t take days off - we've learned a lot even without playing this past week.
Looking back on the game, what was it that went wrong?
Our number one standard, defense and rebounding.  They did whatever they wanted - they drove us, they wanted it more that day.
Are the exam periods mentally draining?
A little bit.  We have like two exams right after practice and then you might stay up until three in the morning.  That's something all of us have to do as a student athlete.  You can't play if you don't get the good grades, so ...
Do you have a PG you model yourself after?
Chris Paul.  He's incredible the way he goes through traffic.  He has the confidence that he can blow by anybody anytime.
You had mentioned Micheal Beasley earlier.  Do you stay in touch with him?
Yeah, we talk all the time.  He's in Miami.  He's actually going to be at the New Jersey game, he plays after us that night so I will probably get to see him and he'll get to see me play for the first time.  It's probably going to be exciting.  He's my little brother, but now he's like my big brother since he's at the higher level.  So I'm the little brother now.  He stays in my ear.
How far do you feel like you want to be as a college player?
I feel like I'm very far away.  I made a big jump from last year, but I know there is a lot of things I can do better - a lot of plays I can make that I'm not making right now.  As the year goes along I watching film. Going into my junior season and my senior season I expect to be a better player.
Coming to BDN Premium, interviews with Scheyer, Singler and Henderson.
[/private]