Blue Devil Nation Premium caught up with Tyler Thornton who updated us on his high school basketball season and much more.  The Duke commitment will lead his team into his schools own Gonzaga D.C. Classic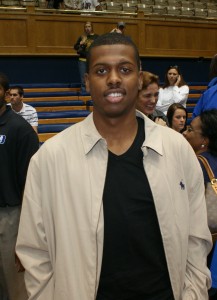 this weekend with a very strong field assembled.  Tyler talks of Coach K and Wojo visiting his teams game, future teammate Josh Hairston and the rigors of playing in a tough conference.  We hope you enjoy what we feel is an informative and interesting interview -
Tell me a how your high school season is going.  I know you had a big game versus Bishop O'Connell that was a tough loss.
We started off the season 2-0 but then had a tough game against O'Connell and Kendal Marshall (UNC commitment).  Last year we beat them four times, but they came in our house ready to play.  It was a tough game which came down to the end.  We made plays, but didn't make enough.  Right there at the end we had our chances after being down and coming back to tie the game.  We just didn't make the shots.  So, it was a tough loss but a wake up call for our team.  We're young and learning at the beginning of the season.  We have time to get everything straight.
I understand you had a pretty good game on the offensive end …
Yeah, I had 23 points and around 6 assists.
So, you're breaking in a lot of new guys.  Are you pretty much running the point for your team?
Oh yeah.  I'm at the top a lot.  We run two guards at the top and I'm one of the two.
I understand that Coach K and Wojo came up to see you play.  Were they at the game?
Yes, they came up.  It was exciting.  The whole day at school the kids were talking about Coach K and Wojo coming in, so there was a lot of excitement.  After I got through warming up, I was looking around to see if I could find them.  They ended up being right there behind the bench which gave me an extra boost.  I wish we could have won.  They left right after the game, but Coach K called me.
Can you tell me a little bit about that without getting into the personal stuff?
He said he enjoyed watching the teams play and that he wished we had come out with the victory.  He said he enjoyed the atmosphere and that he wanted me to come down to a game at Duke.  I plan on going down to see a game, but I'm not sure which game I will be at because my schedule sometimes conflicts.  I will most definitely come down to see a game though.
What games do you have coming up?  Are you in any kind of Holiday tournaments?
My school has the Gonzaga D.C. Classic this weekend.  Then we have another league game next Friday after exams.  Then the day after Christmas, we go down to Miami for the Tournament of All Stars.
In our tournament we play Mount St. Josephs in Baltimore Friday (tonight).  There is a solid of field of teams coming down like Coolidge from D.C. and Archbishop Mitty to name a few.
Are there any games or match ups you are especially looking forward to this season?
I always look forward to playing against DeMatha and St, Josephs and of course St. Johns and O'Connell.  Those are the games I always get up for.  Bishop McNamara is playing good as well, so that will be a big game in deciding the season in our conference.
Needless to say you play in a tough conference …  what's it like to play on the road in the league?  Is it tough or are their big home court advantages?
The atmosphere … every game we go to no matter who it is, even the worst team in the league. the atmosphere is there.  The fans really get into it and the atmosphere is great.  It's great playing in our league.
Have you been able to keep up with Josh Hairston of late?
No, I haven't been able to keep up with him.  But I did talk to him last week to see how he was playing and he said he was going to come up and watch our tournament this weekend.  So, I should see him this weekend, but that's about it.
It's a busy time of year for you.  How is school going?  Is it a lot different now that you have committed to Duke University?
It's lifted a lot of pressure off my back in trying to  balance everything like school, recruiting and playing.  That was one thing I was glad to get off my back after committing.  Now I am able to focus more on my school work and energies in class.
In ending, let me ask you if you have set any personal goals for the season?
One goal I have is … last year we had such a great team, I want to follow up and win another championship (State Champs last season).  If everything goes like it's suppose to, I think we can.  That's the main goal, to win another championship.
Okay!  Thanks for your time and good luck with the rest of your season.
Thank you.
This is but a small idea of the interviews Blue Devil Nation Premium brings to it's members.  Why not join today and gain access to accurate, timely and reliable recruiting information, behind the scenes tips, current player and coach interviews and some of the most unique coverage on Duke Athletics around.  You'll find no speculation here unless stated – we have the facts from some of the best sources available. I've been around the Duke Athletic programs for forty years and I know the subject matter, the trends and what to look for.  So, come on in and discuss the latest Ryan Kelly interview with other members on the BDN Premium (members) only message board and be there as we continue to bring you the very latest information well ahead of the curve.