•  Game 21  •
[1 AP/1 Coaches] Duke (18-2, 5-1 ACC) vs. Virginia (7-9, 1-4 ACC)
Sunday, February 1, 2009  •  2:08 PM ET  •  FSN
Cameron Indoor Stadium (9,314)  •  Durham, N.C.
 
Blue Devil Bits
Duke is 18-2 on the year, including a 5-1 mark in Atlantic Coast Conference play, following a 70-68 loss at No. 6 Wake Forest on Wednesday.
Duke is 12-0 at home this season with a 3-0 home record in league play. The Blue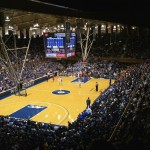 Devils have won 10 or more home games in each of the last 14 seasons, posting a 193-18 (.915) record during that span, including four undefeated seasons.
The Blue Devils are ranked first in the AP poll and the ESPN/USA Today Coaches poll. Duke has now been ranked No. 1 in the AP poll 111 times, the second-most in NCAA history.
Duke is also rated first in the latest RPI according to CollegeRPI.com. The site ranks Duke's strength of schedule sixth in the NCAA.
Sophomore Kyle Singler finished with 22 points and 12 rebounds against Wake Forest. Singler now has six double-doubles this season and 10 for his career.
Gerald Henderson scored 20 points on 9-of-17 shooting on Wednesday. He also had eight rebounds and three steals in the loss. Henderson has scored 20 or more points in four of the last six games.
Senior David McClure matched a career high with 12 rebounds in 25 minutes against the Demon Deacons. The Ridgefield, Conn., native grabbed nine rebounds in the second half and now has three career games with 10 or more rebounds.
 
Numbers Game -
Duke will play its first February game of 2009 on Sunday against Virginia. Under Coach K, the Blue Devils are 165-63 in the month of February, including a 14-7 record against the Cavaliers.
The Blue Devils have won the last 12 meetings with Virginia in Cameron Indoor Stadium. The last time Duke lost at home to the Cavaliers was on Jan. 14, 1995, under Pete Gaudet, 91-88, in double overtime. The last loss at home to Virginia under Coach K was a 77-69 setback on Jan. 17, 1993.
Duke has a 14-0 record all-time against Virginia when ranked No. 1 in the AP poll. The Blue Devils have been ranked in each of the last 27 games against the Cavaliers.
The Blue Devils are the only team in the ACC holding opponents to under 60 points per game in conference play. Duke is allowing 54.7 points per game in league action and has held five of its six opponents under 60 points, including two opponent to under 50 points.
Duke leads the ACC in field goal percentage defense and three-point field goal percentage defense in conference-only games. The Blue Devils are holding teams to .365 shooting from the field and .243 from beyond the arc.   
Sophomore Kyle Singler is tied for sixth in the ACC with six double-figure rebound games this season. Singler is third in the league with six double-doubles, including two games with at least 20 points and 10 rebounds.
Gerald Henderson has scored in double figures in 12 straight games, which is tied for the fifth-longest streak in the ACC. He has scored 20 or more points in four of the last six games, averaging 20.8 points per game in that span.
Junior Brian Zoubek is two blocked shots shy of 50 for his career. Duke has 29 players all-time with 50 or more blocks, including two other current Blue Devils Gerald Henderson (60) and David McClure (50).
Duke is ranked No. 1 for the first time since the final AP poll of the 2005-06 season. Under Mike Krzyzewski, the Blue Devils have been ranked No. 1 in the AP poll 93 times. Since 1990, Duke has held the top spot in the country for 80 weeks, more than any other school in the nation.
Junior Jon Scheyer ranks fourth in the ACC in free throw percentage (.854, 88-of-103). He has made 16 consecutive free throws and now ranks fifth all-time in the league history in free throw percentage (.864, 323-of-374).
Junior Gerald Henderson is leading the ACC with a .595 (47-of-79) field goal percentage in conference play. He also ranks seventh in scoring at 19.7 ppg., 11th in rebounds at 7.2 rpg. and second in steals at 2.7 spg. in ACC contests.
Duke is 471-54 under Coach K when outrebounding the opposition. The Blue Devils have outrebounded their opponents 15 times this season, posting a 14-1 record in those games.