[private]The Blue Devils defense stymied the Hokies holding them to 7 points in the last fifteen minutes.   Four of five Duke starters scored in double figures led by  Kyle Singler who dropped 19 points to go with 8 rebounds, 7 assists and 2 steals.
The physical nature of the game promted Kyle Singler to state, "It's definitely a man's game and if we can play like men, it's going to be a very good year for us."
The Blue Devils benefited from 19 points off turnovers, but more so from a Krzyzewski timeout at the 17:23 mark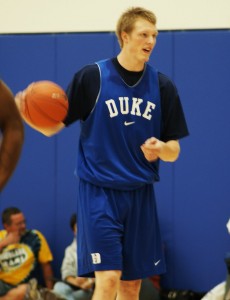 where he challenged his team.  Whatever was said, it worked as Duke went on to outscore the Hokies 25-7 in the last fifteen minutes.  The Hokies scored a mere 9 points after the timeout.
"I think they got kind of tired and that allowed us to push the ball at both ends and do what we needed to," said Singler.
Of course it didn't hurt that Duke was nearly perfect from the free throw stripe as well, where they hit 19 of 20.
Gerald Henderson continued his outstanding play of late with a stat line of 15 points, 8 rebounds and 4 assists.  There were time when he guarded Tech's big men inside and he will his way to make several plays.
Also scoring in double figures for Duke were Nolan Smith who tallied 13 points, 3 assists and 2 steals and Jon Scheyer with 11.  Scheyer was held in check offensively in the second half, but played a good floor game.
Zoubek added another points and only two Blue Devils scored off the bench.
Duke had several players slow down one of the leagues top scorers in A.O. Vassallo who managed just 7 points.
"This is the start of a three game five and a half day loop, so this tests you.  Any ACC win is a good one." said Krzyzewski.  He continued, "In our league anybody can beat anybody.  It's a whole different ball game once the ACC starts."
The Blue Devils are now 1-0 in the ACC, 12-1 on the season and poised to move up a little in the rankings where they were fifth coming into this evenings game.  The win was number 273 for Duke since the year 2000 which is tops in the nation.[/private]