Gerald Henderson took time to answer a few questions during yesterday's media availability -
On how Duke matches up with Wake -
By the numbers, we don't match up.  But we've played big teams, Florida State and Georgia Tech.  We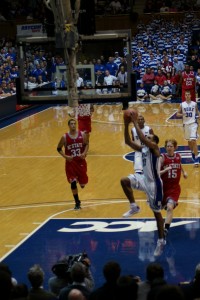 have to go to our strengths.  We'll continue to game plan and stick to the same things we've been doing.
On the tremendous size of the Wake frontcourt -
Aminu, Johnson, McFarland - they're all really good players.  But it's not one player we need to stop because they have a lot of good players. 
On how to come out with a win -
It'll be a team effort and we hope to have a really good gameplan going for us.  If we play good defense and rebound the basketball, we have a chance to win.  No matter how our offense is going, we'll have a chance to win if we do those things.
On his getting the ball in position to score in the Duke offense -
Coaches are really inventive when it comes to sets and plays, so we run off of that.  It gives us a lot of options with Kyle and Jon ... we just try to get it to players where they are at their best.  It helps me drive and always attack the basket and if I am covered, there is always a guy in the corner.
On how to protect Kyle -
One of our biggest things is to try to play without fouling.  With Kyle, whoever the big is he's guarding at the time, we'll just have to play our defense.  Obviously we have help side defense that's pretty strong and that's one of the biggest things in our defense in how aggressive we play.
On how Wake plays -
They like to get out on the break.  Everyone knows that from watching them play.  We'll have to fan out and protect our basket.
On being ranked number one in both polls -
It really doesn't mean as much as people talk about it.  At this point we feel like we're one of the best teams in the country, but I guess people with our ranking think we are the best team.  With our season ... that won't help us until we get  to the NCAA tournament.  We just try to win all of the games and all the rankings will take care of itself.
On last season's defeat in Winston Salem -
They jumped on us early.  For a point we were leading but just fell apart.