The holiday season is over and high schools across the nation are resuming their regular basketball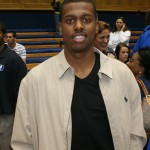 schedules. This edition of High School Hoops starts out in our nation's capital with Gonzaga High School and moves around the country with updates on Duke's future players and recruiting targets.
Tyler Thornton has demonstrated an ability to get to the free throw line in recent games. He has taken advantage of the opportunities by connecting on 35 of 43 attempts over his last four games. His 81.4% success rate during these four games is a 11.7% improvement over the 69.7% (23 of 33) he shot during the first nine games. As a point guard who handles the ball for major minutes, it is important for Thornton to punish opposing teams by capitalizing on scoring opportunities from the free throw line.
By comparison, marquee Duke point guards Tommy Amaker, Bobby Hurley, Steve Wojciekowski, and Quinn Snyder had career free throw percentages of 79.1%, 77.6%, 73.2%, and 70% respectively. Comparing a four game streak in high school to career performances at the collegiate level is quite a stretch but the objective is to point out that Thornton is demonstrating a skill set that could pay huge dividends at the next level.
Thornton scored 25, 20, 21, and 13 points in the four games with 44 percent of those points coming via free throws. He is averaging 16.3 points per game over the first 13 games. Gonzaga is currently 11 - 2 and riding a four game winning streak.
Moving on to Norfolk, Andre Dawkins has opened up 2009 with three solid scoring performances. On January 3, he dropped in 24 points as Atlantic Shores defeated Trinity Episcopal 93 - 43. In a 86 - 34 victory over Hampton Christian, on January 6, Dawkins scored 20 points. And on Friday night, January 9, he scored 21 points as Atlantic Shores knocked off Portsmouth Christian 86 - 51.
Out in Iowa, Harrison Barnes scored 18 points including 12 in the first quarter as Ames defeated West Des Moines Valley 89 - 31 on Tuesday evening. Barnes was 5 - 7 from the charity stripe and knocked down one three pointer in the game. Ames High School won their first seven games by an average of 30 points, on Friday night the Little Cyclones continued their dominating ways by defeating Marshalltown 69 - 40 and improving to 8 - 0. Barnes scored 22 points in the victory. Marshalltown defeated Ames in the state playoffs last year.
On to Seattle and Josh Smith who scored 16 points as Kentwood defeated Auburn 64 - 43 on Tuesday night. On Friday night, Kentwood defeated Kentlake 62 - 47. Smith exploded for 36 points in the game. Josh Smith is the leading scorer in the South Puget Sound League 4A at 24.6 points per game.
In Raleigh, Ryan Kelly scored 23 points on Wednesday evening as Ravenscroft defeated Word of God 68 - 59. John Wall had 17 points in a losing effort while future N.C. State player C.J. Leslie chipped in 20. In an overtime game, on Friday night, Forsyth Country day defeated Ravenscroft 53 - 51. Ryan Kelly scored a season low 11 points and missed a three point attempt with one second left. Ravenscroft is back in action against Cardinal Gibbons on Saturday at 8 pm.
Staying in North Carolina, Mason Plumlee had another big game recording a double-double of 21 points and 13 rebounds as Christ School defeated Cannon School 82 - 60. This road victory improves Christ School's record to 19 - 0.
This edition wraps up by checking in on Brandon Knight down in Florida. On Wednesday evening he scored 36 points as Pine Crest School defeated Benjamin 88 - 69. Knight recorded eight assists and made five three point shots in the game. Knight and Pine Crest will be back in action on Saturday evening at the Dr. Martin Luther King Jr. Classic.