[private]Ravenscroft defeated Word of God on Wednesday evening 68-57 to push their record to 13-3.  Duke bound Ryan Kelly went 8 of 15 from the field to score 23 points while grabbing 7 rebounds.
Word of God slipped to 7-7, but one must consider that both of these teams play in national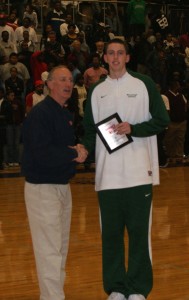 tournaments.  Hot prospect John Wall scored 17 points and N.C. State commitment C.J. Leslie garnered 20 points in the losing effort.
The game was tied at the half before Ravenscroft took the lead in the third quarter and held off a rally only to stretch the lead back out at the end of the game.
The game tipped off at the exact same time as the Davidson at Duke contest which prevented many Duke fans from attending.
News and Observer[/private]