Jon Scheyer took the time to answer a few questions on Monday.  Scheyer addressed being ranked number one and the upcoming game at Wake Forest.
What is it like to be ranked number one in the nation?
Obviously it's an honor to be number one at any time in the season.  It's a lot of great teams out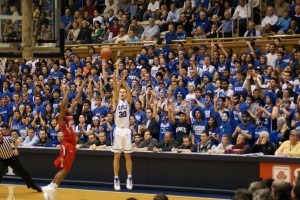 there besides us and any one of them want to be ranked number one at the end of the year.  It's exciting, but we have a big win coming up.  We enjoyed it for a little bit and now we'll move on.
As a team you could probably see this ranking coming.  Did Coach K tell you anything?
We talked about it even before we were number one.  We talked about it way back when Pittsburgh lost that we could have possibly been number one then.  The one thing we talked about is if we were one or two our focus has to be on the next game.  That's something we've done a good job with it.  We've seen the number one team get knocked off the last two weeks, so we see that you can't enjoy it.  Wake was just number one and now we're going to play there.  The rankings will take care of themselves at the end of the year, so we just have to get ready for the game with Wake.
How familiar are you with the Wake and how they play?
They're really long and athletic so you have to be strong with the ball, every pass you make.  With Wake - you're not going to overpower them because they have a lot of athletes.  They get out on transition.  They want to make people take forced or quick shots and get out and run.  We just have to make smart plays.
Wake plays a lot of big guys, so there will be situations where you may be guarding Aminu or Johnson on a switch.  Can you talk about that a little bit?
Well obviously, they start a really big line up and come off the bench with big guys.  For Gerald and myself getting switched off we have to be smart the way we play them.