Count on hearing the term "Big" John Drew in future Duke practices and games,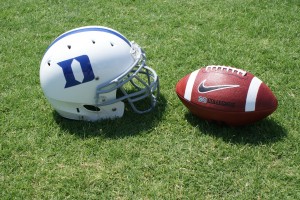 for this young man fits the bill at 6-1, 300 pounds.  Drew projects as an interior defensive lineman at Duke and was recruited by Duke Assistant Coaches Ron Middleton  and Marion Hobby.
Drew had originally committed to Georgia Tech, but changed his mind,mainly due to feeling at home with the Duke coaches. "A great education goes a long way and  the coaches are easy to get along with," said Drew.
The future Blue Devil wasted no time in getting his letter of intent in, faxing it at 7:00 on Wednesday morning.  "It is a relief to get it done.  I'm just ready to start working hard and I'm ready to get up there.
Drew played at Northside High School in Midland Georgia where he was a four year letterman.  He was an All Dixie Region pick by Super Prep and rated the 20th best defensive tackle in the nation by ESPN.com
He recently had 5 tackles in the Georgia North-South All Star Classic and totaled 62 tackles during his senior season, including 7 sacks.
Drew has size, agility and quickness and is on the Northside basketball and baseball team.  Drew picked Duke over Georgia, Georgia Tech and Mississippi State.
His brother played for North Carolina Central, so there is some familiarity with the area.  Drew attended the James Madison and North Carolina games this past season.
Drew said he expected to get his workout plans soon and that Coach Cutcliffe told him to be ready to take it to another level.
The Blue Devil Nation will profile all 27 commitments in the coming days.  So check back with us.