The wheels came off for the third ranked team in the country and Clemson showed no mercy in route to an easy 74-47 victory in Little John Coliseum.  The Blue Devils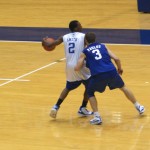 struggled so badly that Coach K tried every combination possible but chemistry was nowhere to be found.
The Duke guards struggled mightily with Paulus, Scheyer and Smith going for 8 total points.  Singler was saddled with early foul trouble and … Look!  There is no reason to continue for Duke just played their worst game in recent memory.
Fans can throw a beat down on the team, but Duke is still tied atop the ACC with UNC and 19-3 overall.  But there is not much more one can say which is positive for this loss was inexplicably bad.
Duke had two players in double figures, committed 16 turnovers giving Clemson 20 plus points and dished a paltry 7 assists.
The Blue Devils have clearly struggled on the road of late and the offense is becoming a concern.  Then there is Scheyer's shooting slump, the lack of production at the point and well,  Duke has a lot to work on before they take on a hungry Miami team.
I'm not one to throw the team under the bus and I feel certain they'll be back, but a loss like they suffered tonight is, well K said it best –
Coach K said they didn't fight, didn't compete and that he was not sure if a Duke team had ever played that bad.  He said the team plays like it prepares and that they have had two bad practices in a row. 
"We didn't want the game for some reason.  Nobody is hurt.  I don't think we played hard enough to get hurt.  We went for one handed rebounds and not one Duke player dived for the ball.  It was a really embarrassing performance," stated a bewildered Krzyzewski.   He went on to say it was his fault, but that this wasn't the Duke way.   "A Duke team can't play that way.  That's the bottom line."