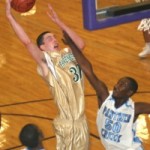 Ryan Kelly and Mason Plumlee are on a collision course as high school basketball play-offs are underway.  The two Duke commitments are the favorites to compete for the North Carolina Independent Schools Athletic Association championship.  The Championship game is on Saturday February 28, 2009.
Ravenscroft defeated Cary Academy 70-46 to win the TISAC Conference Championship.  Ryan Kelly posted a double-double of 31 points and 10 rebounds.  He was named the TISAC Conference Player-of-the-Year for the second straight season.
Mason Plumlee scored 13 points and had a team high seven assists as Christ School defeated Spartanburg Day School 76-68 to advance to the CAA Conference Championship game.  On Saturday afternoon, Christ School won the championship with a 63-49 victory over Asheville Christian Academy.  Plumlee scored 11 points and blocked five shots.
Eric Bledsoe is a Class of 2009 point guard, from Birmingham, Alabama, whose name has recently surfaced as a Duke recruiting target.  Bledsoe scored 11 points and had five steals as Parker HS defeated Woodlawn 49-33.  Bledsoe was named the 5A Northeast Regional Most Valuable Player.
DeMatha defeated Gonzaga 68-65 on Friday night in Washington Catholic Athletic Conference play.  Quinn Cook scored 25 points in the victory.  Cook is a Class of 2011 point guard that is starting to draw rave reviews.  Duke commitment Tyler Thornton scored four points for Gonzaga.  In a game earlier in the week, Cook dropped 25 points on O'Connell in a 64-53 win.
Out in Iowa, the Ames Little Cyclones finished the regular season undefeated at 21-0.  Harrison Barnes scored 28 points as Ames defeated Des Moines Hoover 65-59 on Friday night.  Barnes recently visited Duke and took in the game against Carolina in Cameron Indoor Stadium.