No real surprise- Boston College needed a win for an NCAA berth and they bared down and got the win.  True, they lost to Harvard, but they defeated UNC in Chapel Hill and now have 19 wins.  Traveling to Chestnut Hill is the longest road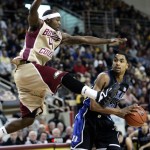 trip in the ACC, add to that the Sunday slot no team wants to play in and it's no real surprise here that Duke lost.  Oh!  Did I mention coming off the emotional UNC game?  Besides, when a team hits little runners thought he lane, you know you are in trouble.  Those are the kind of shots a defense wants to see, unless of course they fall.  In short, give the Eagles credit for their effort and Skinner has proven to be one of the better coaches in the ACC going after players under the radar in recruiting.  Keep in mind, the last time BC beat Duke was in 1985, so the law of averages caught up to the Dukies.
Still disappointing - Duke had a comfortable working margin and let it get away from them going into the half.  While it's not a shameful loss, Duke had their opportunities to win yet came up short.  You never want to lose a close conference game.
The good - Kyle Singler and Gerald Henderson continue to put this team on their backs.  Inspired play from Lance Thomas helped keep Duke in the game.  In fact, Duke was pretty much always in this game.  The season is far from over and there is plenty of time to correct the issues.
The concerns- The guard play production was not at the level it needs to be.  Paulus and Smith had combined numbers that fell short of what a food PG should produce.  Jon Scheyer is mired in the worst shooting slump of his career, but he keeps shooting and that's the only way to break out of a funk.  The defense has let up a ton of points in the last two games and BC and UNC's shooting percentages were ridiculous.
Brutal stretch continues - Duke is no longer in contention for the regular season at 7-4 and must now find a way to make sure they remain in the top four to avoid a play in game.  With Wake Forest and Florida State at home and Maryland, Virginia Tech and UNC on the road it will take a rejuvenated team to get the job done.
Don't overlook St. John's - Duke has a very fragile psyche right now and it is important for them to focus on St. Johns and try and build good work habits - the ones they started the year with.