There have been many entertaining games in Cameron Indoor Stadium over the years and Duke's 101-91 win over #9 Wake Forest is now one of them.
I had the feeling going in that this game would be a bit special and my gut proved accurate from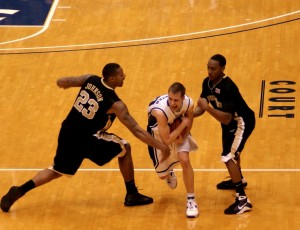 the very start.  As the Duke starting lineup was being introduced, Coach K exhorted his team unlike he had at any other time this season.
This was a critical game for Duke in the more ways than one. Duke needed to protect it's home court with a victory to stay in the ACC race for a first round bye. The Blue Devils also needed to build some momentum.
Here are several thoughts from the game and more -

Coach K's emotion was refreshing - Coach K wasn't about to let his team lose tonight. Every time Cameron would start to wane, he would stand up and exhort the fans. This sent the Cameron Crazies into a frenzy in what was clearly the best atmosphere to date and that includes the UNC game.
And Wake lost this game? - The Demon Deacons came into Cameron and never lost their composure. Down 22 points, they clawed back into the game cutting it to two points before Duke pulled away. With two players in James Johnson and Jeff Teague scoring 28 and 27 respectively and the fact that they shot 61% from the field and drained `4 of 16 free throws, you might wonder how they lost looking at the stats alone.

An amazing performance by Gerald Henderson - Earlier in the week, Gerald said his favorite player was Kobe Bryant. His play emulated the Laker start tonight. Henderson scored a career high 35 points on 11 of 15 shooting. He was deadly from the free throw sripe as well going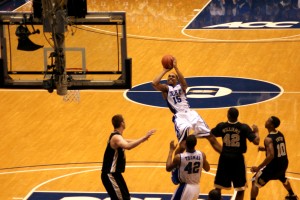 12 of 14. "G" put on a show and there were times in the game where he had Cameron going nuts with his moves. Those who saw the performance live will remember it for years to come. It's no wonder that his proud Father Gerald Sr. was beaming after the game.

Jon Scheyer was just as amazing - What can be said about a kid handed the point guard postion and having a single turnover in 37 minutes of play against a guard heavy team? A lot can be said. Scheyer not only ran the point, he also scored a career high of 30 points to go with 4 rebounds 2 assists and a steal. With Smith and Paulus on the bench, Scheyer stepped up and did his thing.

Lance Thomas is getting consistent - Early in the season Lance was inconsistent, but he has put together a solid streak of games and his work around the glass was oh-so needed.
Kyle Singler - It wasn't a great offensive performance, but the iron man played 36 minutes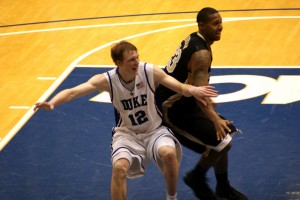 and he made many plays that do not show up in the stat sheet.

Freshman Elliot Williams stole the show - Okay, Henderson and Scheyer stole the show, but Williams 4 steals were at critical times. Williams played within himself scoring 11 points and he didn't turn the ball over. His play has given Duke a huge lift and it will take a crow bar to get him out of the starting lineup.
Speaking of the lineup, the new lineups that is - Well, it's working and players are adjusting. When Smith works out of a late season funk and he will, the team will just get better. Plumlee is adding more athleticism up front and seems to have taken Zoubeks minutes.
Just six turnovers - Duke had an amazingly low six turnover against Wake Forest. And the Deacs can come with some pressure when they want to.

Need more evidence Duke protected the ball? - Not only did they not turn the ball over,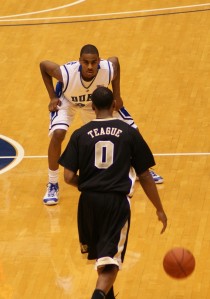 they had the ball stolen one single time the entire game. Now that's what I call protection.
Little time to enjoy the win - Duke now hits the road for two games against Maryland, a team which is playing their best ball of the season and coming off a huge win over UNC. Then, on Saturday, Duke faces a Virginia Tech team which will be more than a little dangerous in that they are seeking another signature win for their tournament resume.
Post Game Quotes -
Duke Head Coach Mike Krzyzewski
"Wow, that was a great game. There were so many amazing performances tonight. That was as good a game as there's been in the ACC this year – offensively, anyway. Our kids have been practicing real hard, and they played really hard tonight. [Gerald Henderson and Jon [Scheyer] had signature games. But, Elliot [Williams] gave us a verve right off the start. In the two games he's started, he's really given us a spirit out there. Again, a little bit of a turning point [on Wake's run] and we didn't know what to do to stop them. I mean, they are so good offensively – so good. So we put, for a couple exchanges, Lance [Thomas] on [Ishmael] Smith so that hopefully Lance's length would keep him out a little bit. I don't know if that worked but they missed a couple. It was something a little different, we got the rebound. There were three critical exchanges – one thing is we never lost the lead. I think it was 80-78 when Jon was smart enough to get fouled on a three pointer – that was a huge play. It gave us a five-point lead. You lose the lead in a game like this and you might lose the game. Then, we had G and Jon hit threes at the end of the shot clock. Those three plays were fantastic and I thought for us were critical. It's a big win for us. It's a huge win."
On his energy during introductions and the game's magnitude:
"The one thing I've tried not to do here is assume winning – that you assume you're going to win. Tonight was a huge game for us. It was as big a game as we've had in three years, because we're 7-4 [in the ACC] and the way the schedule is in February and March, we're already going to end up playing a top schedule in the country and probably the toughest in the conference, and we're away, so you have to win this game. I know that, I know that. So, whatever you can do ethically, legally, and physically you got to try to do. It wasn't about us, it was about our kids. They responded to a lot of game pressure, hit big shots. Wake Forest is a very, very talented basketball team. We could not stop them, but they couldn't stop us either. It was one of those old-fashioned ACC basketball games. A lot of good basketball out there tonight. I'm really proud of my guys. I'm very happy."
On trying to stop Wake's offense:
"Sometimes great offense just beats defense. They kept coming down on us where we're always retreating, playing off your heels. That's why I think Lance's length for a couple of exchanges helped a little. They're very talented, [James] Johnson and [Jeff] Teague are very talented and are going to play basketball for a long time in their lives. They're going to score a lot of points in college and in the pros. They're two really big-time players."
On Elliot Williams' consecutive starts:
"Since the last Wake Forest game when we had a tough loss there, our pressure on the ball kind of went out the window. Our defense starts with disciplined pressure on the ball, not stealing. Elliot's been working really hard. [Assistant Coach] Nate [James] works with him after practice on offense and defense. He's been really good in practice, and always had a good attitude. We just felt we need a change. He came up big at St. John's. He hasn't played like a freshman. He's played at least 30 minutes in each of these games and had 11 points in both, but that's not where he's been the most important. He plays with a really good enthusiasm and confidence that you wouldn't think would be there for a kid who hadn't been playing. He's been a huge spark for us."
On seeing a team a second time in a season:
"This is more like what you would see in a round robin. No question about that. Like how we are going to play a Maryland team again that was at their worst here, and they're at their best now. Each team in the league would like that opportunity for you to see them twice. If you only play them once, you never have to revisit that. That's another reason why this game was so important."
On Jon Scheyer playing the point:
"I think it does help him, because once he gets rid of the ball then he's guarded by a point. That's something we looked at to get his offense going. He had one turnover tonight and I think none at St. John's. He's played two games, brought the ball up and has one turnover. That's pretty good. He doesn't have to make plays for anybody and then his offense has gotten better."
On tonight as a must-win game:
"Instead of saying we had to win it, I told them we're going to win it. I think sometimes the anticipation of doing something should help more than the expectation of having to do it. It's a little like what we did with the Olympic team. We're going to win, not that we have to win. It's a subtle thing, but it's an important thing."
Duke Junior Gerald Henderson
"It was a lot of fun. Cameron was really special today. I was just making reads. A lot of times my teammates were finding me in good spots where I could score the basketball. I shot a pretty good percentage today – I don't want to say it was lucky, but I made a lot of my shots."
"I was just seeing gaps in the defense. We put in a couple of new plays and I just saw some gaps. The last couple of games I've been shooting a lot of free throws and just trying to draw fouls. For me, that's a big thing – if you want to have big games, you have to get to the free throw line. You have to be aggressive throughout the whole game. I kind of had the same mindset throughout the game, just to stay aggressive. But when you're up, it's easy to relax, so we just had to really get tough. It wasn't just on me – Jon played a heck of a game and a lot of guys played well. So when it got to two, we just needed to get stops because we were getting what we wanted on offense. We were really in a good flow."
"Offensively, we played a really good basketball game. They're a good team, but we felt like on the defensive end we didn't do as good a job on some of those guys. It's tough – they have a lot of really good players, with [Jeff] Teague and [James] Johnson both having a really good game."
On Coach K's intensity:
"Even yesterday and the last couple of days leading up to the game, you could tell his intensity level had risen a little bit. We want to win this league, and we're still fighting for first place. His intensity and his passion is something that leads us and we just followed his lead."
"Starting the game, Elliot [Williams] was unbelievable. With his pressure he caused about three or four steals in the first 10 minutes. That's why he's in the lineup if anyone is wondering why we're starting a freshman. That's one of his strengths, really putting pressure on the ball and making opportunities for us."
Duke Junior Jon Scheyer
On the new starting lineup:
"I don't think [it's a radical change]. I think it just puts us in different positions. I feel more of our strengths can be used with this lineup. We can create some mismatches and defensively we just need to stay big and stay in front of people and I think it can be a great lineup."
"There is nobody in the country that can attack the rim like Gerald [Henderson] can. In the open court or the halfcourt, he is someone who can create his own shot or create shots for other people. I was very proud of him tonight – he was great throughout the game. It started in warmups. He was the one getting everybody going in warmups today and making sure everybody was ready. That's just as big as all the points he scored today."
"It wasn't like a must-win game for us but it definitely was a huge game for us because we did lose our last two ACC games. In this game we could've gone to sixth place or we could've gone to second place, and we knew how big of a game that was for us because we still want to be in the hunt for the ACC [regular season] title. We're still in it with that win. We don't need to worry about what everybody else is doing – just keep playing our games and keep getting wins."
On Elliot Williams:
"If you watched the game tonight, you wouldn't have guessed he was a freshman. He was on one of the best guards in the country [Jeff Teague] to start the game and he steals the ball from him a couple of times, gets right in his face, and that's the toughness we need. It gives the rest of us energy. He's been huge for us the last two games."
Duke Freshman Elliot Williams
"We've been working so hard. The times I was on the bench just watching, cheering on my team, [Coach Mike Krzyzewski] told me to keep my head up and just keep playing. [And then recently] he told me, 'You're finally doing it, man. Just stay hungry.'"
"I've been working hard the whole season, but I had a lot to learn. Just watching guys like G, how he moves without the ball, and Jon, how he plays defense. I've always been pretty athletic, but there was a lot I had to learn on defense. Coach [Mike Krzyzewski] said he trusted me and when he played me in the St. Johns game, he liked the way I played so he kept rolling with me."
On the pressure he applied to Jeff Teague:
"I think he was kind of relaxed at the beginning. In the last game [against Wake Forest], we didn't do that, so I wanted to make sure that he felt my presence at all times. He was a little relaxed out there at the beginning and I got a couple of steals on him. But he's a great player and he adjusted."
Wake Forest Head Coach Dino Gaudio

"I thought it was a typical ACC basketball game late in the season. I will say this. If someone would have said we were going to score 91 points and we lose, I think I would have called them a liar. I thought it was really fast-paced, I thought it was really up-and-down. I thought our kids played very, very hard. They never dipped their heads one time. I think the difference in the game was in the first half we had too many turnovers. We talk a lot about no turnovers for touchdowns. The analogy I always give the kids is like a quarterback in football. He throws the ball out in the flat and he's running for a touchdown. That's what they did. They had several turnovers for touchdowns where we couldn't guard them. We turned it over too much, 16 turnovers in the first half, and that was a real big difference in the game. The other thing, and we have done very well at this, but we sent them to the free throw line too many times. When we shoot more free throws than our opponents we are 19-0. That wasn't the case tonight. I was proud of our kids. I thought they played hard and not once did they dip their heads during the game or timeouts so we just have to turn the page and move on to the next one."
On whether they made any adjustments offensively in the second half:
"I think when you play these guys, I think if you just try to run your offense—and what I mean by that is guard the forward pass, reverse it through the post, swing it to the other side, that's not happening. They take you out of all of your stuff. Mike [Krzyzewski] knows, we try to spread them and we try to drive them. We try to put them in ball screen situations. Our guards are quick and we want to be in attack mode and that's what we did. I'm a little disappointed in our defense. It was lacking tonight and that's usually been our stronghold. I think before tonight we were No. 1 in the league in field goal percentage defense, I think we were No. 1 or No. 2 in the league in three-point field goal percentage defense. We're No.1 in the ACC in blocked shots. We're also No. 1 in field goal percentage offense and I think we'll stay there shooting 61 percent."
On struggling defensively:
"You know what? They play really hard on offense. They really move well without the ball. I'll let Mike [Krzyzewski] speak to this, he knows his team better than I, but they started in the last three or four games. They are running more motion than they did before. They were running a lot of ball screen stuff early, but he's running a lot of motion now and they do a good job of it. They do a terrific job of it."
On Gerald Henderson's play:
"He was really good tonight. The one shot he made, the one three as the shot clock was winding down. We are right in his face and that's all you can do without fouling him and big-time players make those shots. He's a pro and he made good shots. It's like when we went down to Miami a couple of weeks ago. Jack McClinton is just knocking them down. We watch the film after the game and I'm telling you guys are right in his face. We had three guys on the ball. If those guys do that, then they've done their job."
On the difficulties of Jon Scheyer running the point:
"Jonathan [Scheyer] is good. We put L.D. [Williams] on him, so whether Jonathan played the one or the two we still put Williams on him. When Elliot [Williams] started we put Jeff Teague on him and L.D. is a really good defender."
On going with a smaller lineup in the second half:
"I just thought the game was so incredibly fast, it wasn't a game for our big guys. It was just really fast paced. I think early in the game [Al-Farouq Aminu] needed to adjust to the pace of the game. He took the ball out a couple times, but he'll learn. He's just a freshman. Everybody canonize some of those kids when they come in, but he's a terrific player for us and I'm really glad we have him. It was a learning experience, a tough place to play of course.
Official Game Notes -
No. 9-ranked Duke defeated Wake Forest 101-91 on Sunday, February 22, 2009, at Cameron Indoor Stadium in Durham, N.C. to improve to 22-5 on the season.
A Winning Tradition
• Duke has now won 1,869 games all-time, the fourth-highest victory total in NCAA history. The Blue Devils have an all-time record of 1,869-814, including 752-213 under Coach K.
• The Blue Devils have won 283 games this decade, the most wins in a decade by the program. The win total is the second most by a team in NCAA history behind Kansas (286-60 from 1990-99).
• Duke is now 928-237 all-time as a ranked team, including 786-180 as a Top 10 team. The Blue Devils are 77-58 when playing a game where both teams are ranked in the top 10, including a 58-42 record under Coach K.
• The Blue Devils have won 20 or more games 44 times in school history with 24 of those coming under Coach K. Duke has won at least 22 of the first 27 games a total of 25 times.
• Duke claimed its eighth ACC win of the year. They have an 844-478 all-time record against current ACC schools, including a 402-127 mark at home. They have now won at least eight games in conference play in 14 straight seasons and in 24 of the 29 years under Coach K.
Duke vs. Wake Forest Series
• Duke and Wake Forest met for the 233rd time on Sunday with the Blue Devils now holding a 156-77 lead in the all-time series. The two meetings this season were split between the two schools with each team winning at home.
• The Blue Devils are now 54-16 when playing Wake Forest in Cameron Indoor Stadium. Duke has won the last 11 games played in Cameron.
• Coach K is 37-23 all-time against Wake Forest. He has a 13-12 ledger in the month of February.
• Duke has been ranked in each of the last 27 games they have played against Wake Forest and 93 times overall in the series. They have been ranked in the top 10 in 80 games.
Duke In The ACC
• Duke now owns a 517-277 all-time record in ACC regular season games since the inception of the league in 1953-54.
• Duke has an 844-478 record against schools currently in the Atlantic Coast Conference, including a 403-128 record at home.
• Coach K owns a 342-147 record against schools currently in the ACC.
Duke At Home
• The Blue Devils now have an all-time record of 737-150 (.831) when playing in Cameron Indoor Stadium, including a 377-55 (.873) mark under Coach K.
• The Blue Devils have a streak of 64 straight seasons with a winning record at home heading into this year and are now 15-1 thus far at Cameron in 2008-09. The last time Duke had a losing record at home was in the 1943-44 campaign when they went 7-8.
• Duke has now won 15 home games in a season for the third straight year and eighth time in school history.
• The Blue Devils have sold out 290 consecutive games at Cameron Indoor Stadium.
Duke In February
• Duke improves to 4-3 in the month of February in 2008-09. Under Coach K, the Blue Devils have a 169-66 all-time record in the month of February.
• When playing on Feb. 22, Duke is now 18-4 all-time, including a 9-0 record under Coach K. The Blue Devils are 3-1 on this date against Wake Forest.
Krzyzewski Climbs Victory Ladder
• Duke head coach Mike Krzyzewski earned his 825th victory as a head coach on Saturday. He ranks fifth all-time in NCAA Division I history for career victories and is first among active coaches.
• Krzyzewski is now five victories shy of Jim Phelan for fourth all-time.
• Coach K now has 752 wins as the head coach at Duke, ranking him sixth in NCAA Division I history for victories at one school and second among active coaches (Jim Boeheim, Syracuse – 790). Krzyzewski is seven wins shy of Western Kentucky's Ed Diddle for fifth all-time.
• Krzyzewski's 825 victories are the second most by a head coach through 34 years of coaching. Only Dean Smith of North Carolina won more games with 830 victories.
1,000 Career Points
• Duke has 58 players in school history who have scored over 1,000 career points, giving the Blue Devils the third most 1,000-point scorers of any school in Division I behind North Carolina (62) and Louisville (59).
• Duke has three current players who have scored at least 1,000 points in their career. Jon Scheyer ranks 39th all-time with 1,174 career points. Greg Paulus currently ranks 41st on the school's all-time list with 1,165 career points. Gerald Henderson ranks 50th with 1,092 career points.
• Sophomore Kyle Singler is also chasing 1,000 career points this season. He currently has 881 career points.
Offensive Notes
• The Blue Devils scored over 100 points for the first time this season. The last time they scored over 100 was against Albany last year in a 111-70 win. The last time Duke did it in an ACC game was against Wake Forest (102-92) on Feb. 20, 2005. Duke now has scored 100 points 171 times with a 166-5 record in those contests.
• Duke scored at least 50 points in each half, marking the 44th time under Coach K that has happened. It is the ninth time it has happened under Coach K against an ACC opponent, the last was against Virginia on Jan. 15, 2003.
• The Blue Devils have scored at least 50 points in a half nine times this season, accomplishing it five times in the first half and four times in the second. They have had four halves of 50 or more in ACC play.
• Gerald Henderson and Jon Scheyer combined for a Cameron Indoor Stadium record 65 points. It is the most two players have ever combined for at home and during the Coach K era. It is the fourth highest combined total of the top two scorers in school history. The record is 75 by Danny Ferry (58) and Alaa Abdelnaby (17) at Miami on Dec. 10, 1988.
• It is the first time under Coach K and ninth time in school history that two players scored 30 or more in the same game. The last duo to each score 30 points in a game was Gene Banks (31) and Mike Gminski (30) did it against Clemson on Jan. 9, 1980.
• The Blue Devils shot .541 (33-of-61) from the field, the second straight game they shot over 50 percent. It is the seventh time this season they have shot over 50 percent from the floor with a 7-0 record in those contests. Coach K owns a 419-30 all-time record when his teams shoot 50 percent or better.
• The 33 made field goals give Duke 30 or more made field goals in 11 games this year.
• Duke has made more free throws than its opponent has attempted in 14 contests this season. They have made 25 or more free throws a total of five times.
Defensive Notes
• Duke forced 20 turnovers in the game, the sixth time this season they have caused 20 or more turnovers in a game. The 20 turnovers led to a 26-8 advantage in points off turnovers.
• The Blue Devils had 10 steals to give them 10 games with 10 or more steals in a game.
• Wake Forest shot 61 percent (36-of-59) from the floor, the highest percentage by a Duke opponent this season. The previous high was 58.5 percent by Boston College. The last team to shoot over 60 percent against Duke was N.C. State (.608) on March 8, 2007. The Blue Devils are now 14-33 when its opponent shoots at least 60 percent from the floor.
Duke Player Notes:
Gerald Henderson
• Junior Gerald Henderson scored a career-high 35 points on 11-of-15 from the field, 1-of-4 from the three-point line and 12-of-14 from the foul line. The 35 points is tied for the 37th highest single game total in school history. The last player to score 30 points in a game was J.J. Redick (30) against Florida State on March 1, 2006.
• Henderson recorded his first career 30-point game and has now scored 20 or more in seven games this year and 11 times in his career. He has reached double figures in scoring in 23 contests this season.
• Henderson scored 18 points in the first half on 6-of-9 from the field and 6-of-6 from the free throw line. It was two points off his single half high of 20 points in the second half against Southern Illinois.
• With his 35 points Henderson moves past Associate Head Coach Chris Collins into 50th on Duke's all-time scoring list.
• The 11 field goals and 12 made free throws were both career highs for Henderson. He has now made 10 or more free throws in back-to-back games. The last player to do so was J.J. Redick who made 10 or more in three straight games from Jan. 14-21 in 2006.
• Henderson has now made 10 or more field goals three times in his career, all coming this season.
Jon Scheyer
• Junior Jon Scheyer scored a career-high 30 points on 8-of-16 from the field, 5-of-10 from the three-point line and 9-of-11 from the foul line. His previous career high was 27 points at Miami last season.
• Scheyer has now scored 20 or more points in a game seven times this season and 13 times in his career. He has scored in double figures in 20 games this year.
• Scheyer made five three-point field goals to match a career high. It is the third time in his career he has made five treys. He has made three or more treys in eight games this season and 24 times in his career.
• With nine made free throws, Scheyer has six games this season with eight or more made foul shots. He has attempted 10 or more on six occasions this season.
• Scheyer tallied three assists to lead the team. He has led the team in assists in 13 games this year with 16 games of three or more.
• The two steals give Scheyer 13 games with two or more steals on the year.
Kyle Singler
• Sophomore Kyle Singler reached double figures in scoring for the 24th time this season and 49th career game with 11 points on Sunday.
• Singler recorded at least one point, rebound, assist, blocked shot and steal in a game 13 times this season.
• With six rebounds Singler now has five or more boards in 25 of the 27 games this season.
• Singler had two steals to give him two or more steals in 13 games on the year.
Lance Thomas
• Junior Lance Thomas had six rebounds to give him eight games this year with at least five boards. He has 26 career games with five or more rebounds.
• Thomas blocked a shot for the eighth game this season.
• The 33 minutes played were a season-high for Thomas. His previous high was 28 against Rhode Island.
Elliot Williams
• Freshman Elliot Williams reached double figures in scoring for the second straight game after not reaching 10 points in the first 25 games of the season. His 11 points matched his season high against St. John's on Thursday.
• The five made field goals also match a season high which he set at St. John's.
• Williams tallied a season-high four steals. He has two or more steals in three games this season. His previous high was three steals against Loyola on Dec. 31.