I have found that it generally takes me at least five views of a prospect to get a good feel and accurately describe their game.  I mean there are so many intangibles, like have they been playing or traveling a lot of late or have they been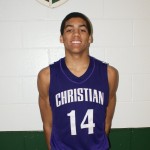 under the weather.  The list also consists of,  have they had off the court or personal issues, a look at the match up situations, whether they have familiarity or lack of in the environment they are playing in.  I watch to see if they play consistently or if they turn it on when certain coaches are in attendance.  I could go on for another 1000 words describing intangibles alone.  That is but scratching the surface of the many things I look for when scouting a player.
Every so often a players comes along that you get an immediate feel for and James McAdoo is one of those guys.   McAdoo has the ability to slash through defenders and always gets his shot off, traffic or not.  At his young age, he already understands angles and spacing.  He moves well in all aspects of the game including defense where his long body allows him to recover quickly to play help defense.   In short, McAdoo is a big time talent.
BDN was able to speak with McAdoo this past weekend and here is that conversation. 
How old are you now?
I just turned sixteen on January the 3rd.
What is your actual height?
6-8
What schools are really looking at you at this point?
UCLA, Texas, North Carolina, Clemson, Georgetown and Syracuse.  Did I say Florida?  Florida is up there.  Virginia Tech, Virginia and Wake Forest – that's it as far as I can remember.
Any offers?
Florida, Wake Forest, Clemson, UCLA, Georgetown, Virginia Tech and Virginia.
Sounds like everybody but …
UNC, Texas and Duke.
I noticed a Duke coach in the house (Slamfest) …
Yes sir.  They are


Sorry, but you must become a premium subscriber to view the rest of this post.

Join now by visiting the PREMIUM MEMBERSHIP link at the top of the page, where you can learn more about the benefits of a Blue Devil Nation Premium membership.