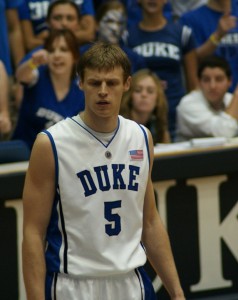 Marty Pocius has decided to forgo his senior season, but he will take with him a Duke degree.  He wants to play professional basketball in Europe and will return home to Lithuania.  Pocius took time to reflect upon his Duke career this afternoon -
It caught a few by surprise that you would graduate early ...
I just decided to get my degree.  Right now, the most important thing for me is basketball and I really want to play.  So I will try to figure out where that is and find an opportunity.  I got the degree.  I accomplished what I wanted.
Have you thought about where you might play ball in the future?
Honestly, not at all.  Because we still have a month of the season left and I really haven't given it much thought because I really want to focus on out team and give 100%.  I will start to think of that when the season is over.  Whatever comes after, comes after.
Was it tough not to play a lot this season?
Every basketball player wants to play as much as he can and have as good a career as possible.  For me, things went one way.  Maybe if  I weren't injured for a couple of seasons it would have been different.  It is how it is and I'm just choosing to go back home.  There aren't any hard feelings.  I love Duke and I will always love Duke.  It's a great place with great memories
Do you feel like you are a better basketball player after your Duke experience?
Absolutely.  I know I have learned a lot from the experience.  Having four years to learn from coaches has helped me to improve as a basketball player.  I'm just ready to do it somewhere else.  I will try to play basketball for as long as I can and I have a chance to do that.
So, do you think you'll start tomorrow night?
I don't know if I can say anything about that, so ...
What did you major in?
International Computer Studies.  It's a flexible major, which I can do anything I want with it.
Was it a tough decision to leave Duke?
Um, you know it's ... of course it's hard to leave.  It's been a great four years, but I feel it's the time to move on.
What is the one thing that sticks out in you mind you learned while at Duke?
The work experience.  I learned to really work hard no matter what and I think that will definitely help in the future.
Best of luck to you in all of your endeavors ..
Thanks a lot.