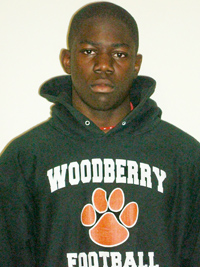 During a recent press conference designed to kick off Spring Football, Duke Coach David Cutcliffe ended the session talking about recruiting.  "It's the best response we've got since being here.  It's never a dull moment in recruiting, it's every single day," said the second-year coach when asked how things were going with the 2010 class.
Duke was set to take to the football field the next day, but it was clear that the staff was working just as hard off the field.  "You go out there (practice) tomorrow and coach ball but when we come back in the first thing we are going to do is start recruiting.  That's the first thing we do as a staff in the meeting every day," said Cutcliffe.
It just so happens that Duke had a young man attend that opening practice, named Aramide Olaniyan.  The budding high school standout liked what he saw, not only in practice but on campus.
Olaniyan is about 6'-2" and weighs in near 200 pounds.  He plays his high school football for Woodberry Forest School in Woodberry, Virginia.  Olaniyan has been featured in Sports Illustrated's "In the Crowd" and is on the ESPNU Top 150 Watch List.
Once he returned home, he talked over the visit with his parents and after Duke defeated Texas on the hardwood, he called Zac Roper to say Duke was the place for him and that he wanted to commit.
He later talked to Coach Cutcliffe and was comfortable with the entire Duke staff during their recent "Junior Day."  Olaniyan had wanted to give his verbal before leaving Durham but was encouraged to think it over and make sure which he did.
Academics played a strong role on his decision as did the availability to come in and compete right away at his position, which will likely be outside linebacker.
The Duke verbal recorded 60 tackles, 27 for losses and 13 sacks as a junior.
Olaniyan had offers from Auburn, Boston College, Michigan, Pitt, Stanford, Tennessee, UCLA and Wake Forest.