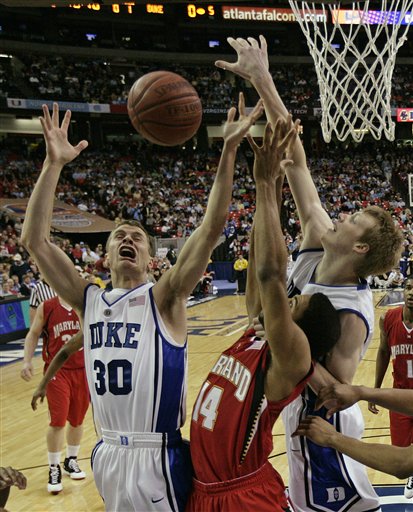 In the movie Scarface, Al Pacino (Tony Montana) said, "Say hello to my little  friend," as he whipped out his machine gun to take care of business.  Duke introduced Maryland to their old friend, the three point shot, going 9 of 22 helping them take care of business.
The Blue Devils 67-61 victory over the Terrapins wasn't always pretty, but the end result has to be beautiful for Mike Krzyzewski who will vie for his 11th ACC Championship tomorrow afternoon.
But Duke had some other familiar friends show up in their victory which pushed their season record to 27-6.  Duke managed to get to the free throw stripe 21 times, canning 18 of them.  Then there was their staple defense which is allowing 64 ppg in their first two contests.
Duke didn't shoot the ball well.  In fact, one of their key stars, Gerald Henderson went 3 of 14 from the field.  That combined with 36% from the field made for a game where Maryland remained within striking distance for most of the game.  Henderson ended the game with 8 points, but his streak of 24 straight double figure scoring games went down.
Henderson finally hit a three to give Duke a 47-41 lead at the 8:44 mark in the second half.  Maryland quickly scored of a Vazquez drive, but that's when the player of the game, Jon Scheyer took over.
Scheyer nailed a three point shot and then stole the ball just beyond half court, driving the ball for a lay in all in the same motion.  Scheyer also hit key free throws down the stretch and led all scorers with 22 points. 
Another key factor was Nolan Smith logging 30 minutes.  Smith shook off some early game rust and finished with 10 points, 3 assists and 0 turnovers.
But the player who kept them into the game in the first half, was Kyle Singler.  The sophomore star was the only double figure scorer for either team at the half and while he cooled off in the second half, he put up numbers of 14 points, 11 rebounds, 3 assists and 2 blocked shots.  Singler became the 50th player in Duke Basketball history to score 1000 points with his effort.
Let's not forget Dave McClure who made consecutive baskets during a key second half spurt.  McClure was 3 of 3 from the field for six points.  McClure had several key boards and timely blocks which gave Duke a spark.
"As a group, it would be a great way to help us in the latter part of March. Personally, it would be great just to get back there. We won a couple championships early in my career, but I really wasn't much of a factor. I was young and coming off a couple injuries. There would be no better way to end with these guys than to go out and get one. Everybody on our team feels like they are a part of it. Everybody will take ownership of it," said McClure in the post game interview session.
That spark was important, for the Blue Devils came out looking lethargic.  It was as if they were waiting for one another to make a play.  That's why Singlers play was vital today for he put the team on his back in the early going.
The Duke defense held Greivas Vasquez to 14 points on 17 shots.  Eric Hayes picked up the slack late for the Terps scoring 20 points, but it was too little too late.
Duke defeated Maryland for the third time this season.   Duke will now against a more talented Florida State team that defeated #1 rated North Carolina to advance to their first championship game under Coach Leonard Hamilton.  The ACC Coach of the Year, will attempt to keep his team from losing their third game to the Blue Devils.
Duke has played in 28 of the 56 ACC Tournament Championship games, a stat that speaks for itself.  Duke now has a 7-1 all time record in the Georgia Dome.