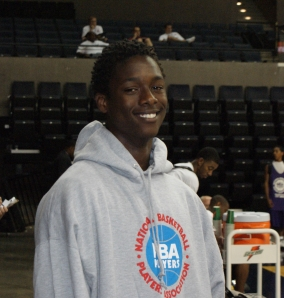 Ames defeated Roosevelt 75-42 on Tuesday night. Harrison Barnes scored 14 points as Ames advanced to the State Tournament at Wells Fargo Arena. The Little Cyclones are the number one seed in the tournament and will face number eight seed Iowa City West on Wednesday March 11.
Harrison Barnes' mother denied rumors circulating that Barnes will transfer to Oak Hill Academy for his senior season.  Barnes is the number one rated player in the Class of 2010 and is being pursued by top basketball schools across the nation including Duke and Kansas.
Andre Dawkins scored 37 points and grabbed 11 rebounds as Atlantic Christian defeated Covenant 90-61 in the Virginia Independent Schools tournament quarterfinals. Dawkins scored 16 points in the semi-finals as Atlantic Shores defeated Norfolk Christian 76-63. James McAdoo, a highly rated 6'8" sophomore, scored 37 points for Norfolk.
DeMatha edged Gonzaga 62-61 in the Washington Catholic Athletic Conference championship game. Tyler Thornton scored 14 points for Gonzaga. Quinn Cook scored 13 points to lead DeMatha.