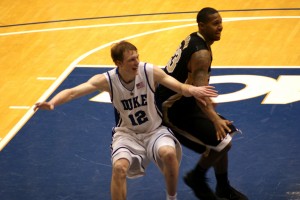 Duke started the game by holding Boston College to just two points in the first eight and a half minutes of the game.  But then the Eagles stormed back to take a 29-22 half time lead and Duke was clearly struggling.
Perhaps the fact that Duke was unable to hold a shoot-around in the Georgia Dome was the culprit, but once they warmed up and doubled their first half scoring to finish the game with a hard earned 66-65 win.
The Blue Devils were led by what could have been Kyle Singler's career best game.  The sophomore forward led the Devils in scoring with 26 points, grabbed 9 rebounds and had 6 very timely blocked shots.
Singler put the team on his back in the first half and the second, playing iron man minutes and missing just 5 shots from the field.  His 2 steals ended up in baskets on the offensive end and every time Duke needed a big shot, he seemed to be there.
The Blue Devils rallied for a 9-0 run to pull ahead by a single point after the break, but Boston College refuse to fold.  Tyrese Rice found his shooting touch, ending the game with 17 points.  But it was a solid defensive effort which pushed him out of the final two offensive possessions.
Biko Paris tried to pick up the slack going 5 of 5 from the field, all three pointers.  The Duke defense effectively slowed down Rakim Sanders.
Gerald Henderson, saddled with two fouls in the first 30 seconds of the game, came alive to score points and Scheyer chipped in with
Lance Thomas played an effective game as well, and Dave McClure did many things defensively that only show up on the teams "true (hustle) blue" stats.
This was the kind of close win that teams generally grow from and all of today's ACC Tournament contests were decided by 3 or fewer points.
Duke was shooting just 32% at the half but ended the game at a respectable 46.8%.  Duke moved to 26-6 on the season and will take on Maryland for the third time this season tomorrow at 3:30.
Duke is sure to take the best shot Maryland has to offer in that they are close to an NCAA bid after defeating #9 Wake Forest.  A win over Duke would certainly put them in the NCAA field.  Maryland will go all out for they just need a win over Duke and do not necessarily have to win the tournament to accomplish their goal.
Quotes / Duke Head Coach Mike Krzyzewski -
"It was a man's game out there tonight and I'm proud of our guys to make that one stop we needed to win the game. It was going to be a one possession game and our kids executed real well. Gerald Henderson delivered to give us the lead and then we played really good defense. It's survive and advance so to speak."I thought Kyle  was sensational for us. Gerald  got into the foul trouble with two quick ones in 30 seconds and that screws anybody up, especially the coach. I thought Kyle kept us in there. In the second half, we just flowed so much better offensively with Gerald [Henderson], Jon and Kyle playing so well. [David] McClure and Lance Thomas were very, very good for us and obviously Elliot has been such a key guy for us."We're proud of the win and congratulate Boston College for a good game against us and for what I would think would be a good seed in the NCAA Tournament."
On the second-half turnaround for the Duke offense
"I think a lot of it has to do with we had 20 minutes to warm-up. This is our first time shooting in this place. They played very well but I do think part of it was not being able to get accustomed to your environment. Hopefully we are accustomed to it now and we get to play a very good Maryland team. I think that had something to do with it with the fact that Gerald [Henderson's] foul trouble and their defense was probably a concoction there that leads to 22 points."
On the play to give Duke the winning basket
"We tried to get him and Jon [Scheyer] in an action where Jon was screening for him to get into the low post. Set a screen for the screener. He was open the first time we did it and we were going back to it either if he was open to hit him or for Jon to take a three. They executed well and Gerald delivered. It was not an easy shot but at least he was one-on-one in the post. It was a big time play by Gerald."
Quotes / Players -
On what he saw over the final sequence of plays
"On my shot, I knew I needed to make a strong move whether to score the bucket or to get a foul. With Rakim [Sanders] shot, I just wanted to push as far away from the basket as I could and then make him shoot the longer shot and just not foul." - Gerald Henderson
On tonight's game
"We are happy with the win.  It was a very tough game.  Boston College is a very good team.  We didn't play our best basketball in the first half but when it counted in the second half we made the plays we needed to make." -Kyle Singler
On playing Maryland tomorrow
"We need to play 40 minutes to win this tournament, so we are moving on and Maryland is on our mind now."   - Singler
On tonight's win
"It was a great win and we had to fight it out to the end.  We did whatever we needed to do to make sure we were the ones standing at the end, now we just look forward to the next game." - Lance Thomas