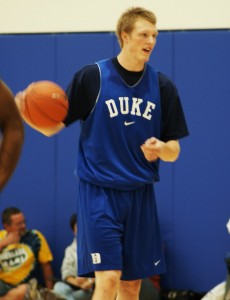 Kyle Singler sat down with the media just minutes ago for a question and answer session going into the ACC Tournament.
What did the coaches have to say after Sunday's tough loss?
Just take open shots.  Whether it's 25 or 30 open shots, you should take them.  As long as they are good shots he wants us to take as many as possible.
How do you feel now as opposed to last year from a physical standpoint?
It's really hard to look back at last year at this point to see where we were as a team because it was such a long time ago.  I mean, right now as a team we feel great.  We feel we are in a great position to make a good run at this thing and getting a lot of guys back healthy is a key.  Everybody is excited and that's the way it should be.
What about you personally?
I will tell you the same answer.  It's hard for me to tell where I was last year at this point, but I feel great.
Do you feel like you guys can continue forward where all five starter played big minutes?
Every game is different.  Every game brings a different situation.  We are going to have to have guys come off the bench to help us.  That's not to say, they haven't.  Dave has been big for us.  Brian has had big minutes for us and down the line.  Five guys are going to play the majority of the minutes and that's just the way it is.
Going back to being fresh ... doe's it have something to do with the all out way you play?
That's the way you should play, I guess.  It's the way I play.  I feel good right now.  I guess having a year under your belt of college basketball is definitely a good thing to have.
Coach said on Sunday, that the way you are playing now, guys are getting different shots.  Can you speak for yourself about the kind of shots you are getting now that you are playing a different way?
I think what coach was trying to say to us, is not different shots, but the amount of shots we get.  I think what he is trying to say is ... guys get shots in different positions.  You might go through a stretch where you might not shoot the ball for five minutes and you might get five shots at  different positions.  It's just getting use to the flow you might have.  Just taking good shots.
Have you thought about who you will play on Friday?
The two teams that we might play, we've played before.  As of now we are not focusing on a team or who is projected to win.  We are just focusing on ourselves right now and trying to get better as a team.
Would you relish a chance to get back at Boston College?
I think right now our focus is that it's a new season and what's happened, happened.  Whether it's BC or Virginia, we are starting fresh.
What would winning an ACC Championship do for you guys?
Well, coming in to this, it's a new season and we're playing the best basketball we've been playing throughout the whole season.  This is a time where if you win three games, you feel good about yourself.  Winning a tournament helps your confidence, boosts your confidence.  You definitely want to come in and play as well as you can and that projects into the NCAA Tournament.
About having success in March ...
We just have to come in with the mindset, just like I said it's a new season.  What we've done we've done.  And this Duke team?  We need to do something this year and we know that.  I think guys are excited because of that.  We just have to stay healthy.  We have the team to win - win games, win big games.  It's a confident group.
As a team we still have a lot of growth still.  We are not as a group at or where we will be.  I know that's tough to say, but a lot of guys still have a lot of potential, still.  So, what Jon was trying to say is that we might not know how good we really are.  This week is a big week for us.  We're not worried about who we are playing, we're just trying to get better as a team.