Archives by date
You are browsing the site archives by date.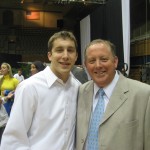 By Mark Watson on March 27, 2009
The Blue Devil Nation would like to thank Greg Paulus, David McClure and Marty Pocius (who will leave school with one year of eligiblity left. ) Good luck to all of you in your future endeavors and thanks for your effort while at Duke.
Posted in Duke Basketball | Tagged Blue Devil Nation, David McClure, Duke Seniors, greg paulus, Marty Pocius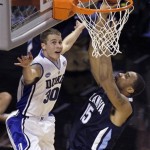 By Mark Watson on March 27, 2009
The Villanova Wildcats put an end to the Blue Devils' 2008-09 season with a 77-54 win.  Duke was out of sync on the offensive end all night long, some of that due to the Wildcats' defense.  Duke's Jon Scheyer and Gerald Henderson struggled mightily and without two of your big three stars playing with their […]
Posted in Duke Basketball | Tagged Blue Devil Nation, Duke Villanova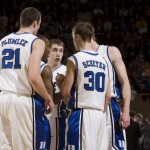 By Mark Watson on March 26, 2009
Boston, MA Many have said that Duke and Villanova mirror each other and a quick look at the rosters and stats certainly add validity.  The two schools have eerily similar stats when you look at their scoring averages on both offense and defense.  They both play with no true big man and neither team goes […]
Posted in Duke Basketball | Tagged Blue Devil Nation, Coach K, Corey Fisher, Duke NCAA Tournament, Duke Villanova preview, Dwayne Anderson, Gerald Henderson, Jay Wright, Jon Scheyer, Kyle Singler, Scottie Reynolds, Villanova Duke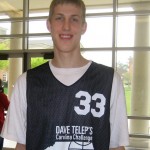 By Mark Watson on March 25, 2009
If you want to see some of the best young basketball players in the state of North Carolina, then you will want to check out the Carolina Challenge this Saturday.  The event takes place in Cary and you can find a complete list of players and directions to the event in this Carolina Challenge Link. […]
Posted in BDN Premium Articles, Duke Basketball, Duke Basketball Recruiting News | Tagged Blue Devil Nation, Carolina Challenge, Dave Telep, North Carolina High School Prospects
By Mark Watson on March 25, 2009
Duke-Villanova – I have enjoyed the break from recruiting  of late for it means Duke is still alive and well in the NCAA Tournament.  The atmosphere around the team is good.  They feel [private] as if they dodged a bullet against Texas, that bullet being their own psyche.  Now, that they have gotten over the […]
Posted in BDN Premium Articles, Duke Basketball, Duke Basketball Recruiting News
By Mark Watson on March 24, 2009
Nolan Smith has been a key component in the Blue Devils' attack since coming back from a concussion suffered against Maryland.  Coach Krzyzewski most recently sang the praises of the sophomore guard, saying that he feels like he has found his role on this season's team. Smith has been in the news a lot of late, […]
Posted in Duke Basketball | Tagged Blue Devil Nation, Coach K, Duke Basketball, Duke NCAA Tournament, Duke Villanova, Nolan Smith