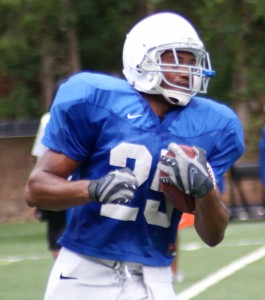 The Blue Devil Nation will kick off it's Spring Football coverage this coming Monday.  Be sure to tune in for complete coverage.  The following is a press release from Duke Sports Information.
DURHAM, N.C. — Duke head football coach David Cutcliffe announced on Thursday that redshirt freshman tight end Kenny Anunike and redshirt senior defensive tackle Vince Oghobaase will miss the remainder of spring practice after suffering injuries in the Blue Devils' workout on Wednesday.
 
Anunike, a 6-5, 230-pound native of Galena, Ohio, will undergo surgery to repair a meniscus tear in his knee. The surgery will be performed on Friday by Dr. Claude "Tee" Moorman, Duke's head team physician and Director of Duke Sports Medicine.
 
Oghobaase, a 6-6, 300-pound native of Houston, Texas, suffered a stress fracture in his foot, and surgery will not be required. He was an honorable mention All-ACC selection in 2008 after recording 51 tackles, 9.0 tackles for loss and 6.0 quarterback sacks.
 
"We're disappointed for both Kenny and Vince, but we are confident that both of them will rebound from these setbacks," Cutcliffe said. "We have the top medical resources in the country here at Duke, so we know they will receive the best treatment and care. While we would love to have both of these young men participating, spring practice is a time when football teams must develop depth. The other players in our program will need to step in and compete to fill these holes in the depth chart."
 
Duke returns to the practice field on Friday morning for its second practice session.