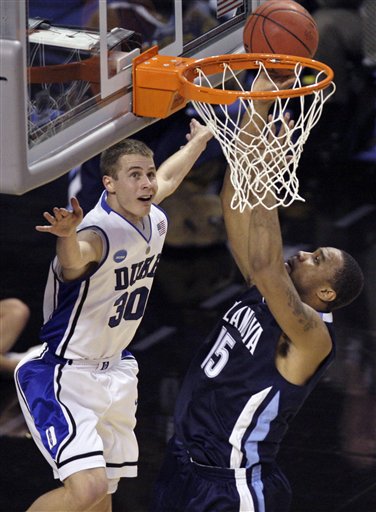 The Villanova Wildcats put an end to the Blue Devils' 2008-09 season with a 77-54 win.  Duke was out of sync on the offensive end all night long, some of that due to the Wildcats' defense.  Duke's Jon Scheyer and Gerald Henderson struggled mightily and without two of your big three stars playing with their A game, there is little chance of victory.
The two combined for just 4 of 32 from the field.  The Wildcats would not allow the Blue Devils to drive and that affected Henderson all night long.
By the time Gerald Henderson hit his first basket from the field, Villanova was up by 15 points with 4:47 left in the game.  The very next trip down the court the Wildcats sliced through the Duke defense in mere seconds to score an easy lay-up and cruised to a 23-point win.
Duke ended the night shooting 26% which translates into 16 of 60 from the field.  Villanova helped their cause going 19 of 23 from the free throw stripe, but Duke still held them to 43% from the field.
There were some opportunities but every time it looked like Duke could close the gap, a shot would rim in and out or they wouldn't get a shot off.  So, it will be a long flight back for Duke, but this staff will hit the road running in recruiting, where their goal is to dig up a point guard.
Duke fans will await the news of whether Gerald Henderson will return for his senior year and, like the team, will realize that one bad game doesn't tarnish a great season.
It was one of those nights and certainly not the way the Dukies wanted to end their season.  It'll be hard to get the taste out of their mouths for a couple of days, but at 30-7 and ACC Champions, the Blue Devils did have a good year.  Let's not forget that Duke won 10 of 11 to get to the Sweet 16 when the chips were down.
Villanova (29-7) will move on to face Pittsburgh, a team they defeated in their only meeting this season.  The winner of that game will advance to the Final Four.