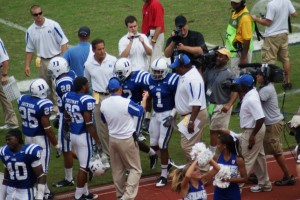 DURHAM, N.C. – Duke head football coach David Cutcliffe announced on Wednesday the rosters for the upcoming Spring Game slated for Saturday, April 18 at 1 p.m. at Wallace Wade Stadium.
The 2009 Spring Game will pit Duke's first team offense with the second team defense (Blue team) against the first team defense and second team offense (White team).
The Blue squad features running back Re'quan Boyette, quarterback Thaddeus Lewis, cornerback Leon Wright and wide receiver Johnny Williams. Boyette led Duke in rushing in both 2006 and 2007 before missing the entire 2008 season due to injury while Lewis, a three-year starter under center for the Blue Devils, was an All-ACC pick last fall after throwing for 2,171 yards and 15 touchdowns. Wright, who missed the final six games of the 2008 campaign due to injury, has career totals of 97 tackles, five interceptions and 12 pass break-ups while Williams hauled in 30 passes for 327 yards as a rookie in 2008.
The Blue unit also boasts returning starting offensive linemen Kyle Hill and Bryan Morgan, running back Jay Hollingsworth (Team-high 399 rushing yards in 2008), nose guard Kinney Rucker (21 tackles in 2008) and wide receiver Donovan Varner (21 receptions for 164 yards in 2008).
The White team is led by running back Tony Jackson, defensive end Ayanga Okpokowuruk, linebacker Vincent Rey and cornerback Chris Rwabukamba. Jackson accumulated 380 all-purpose yards last fall while Okpokowuruk had season totals of 29 tackles, 6.5 tackles for loss and 3.5 quarterback sacks last year. Rey secured 109 tackles in 2008 and added 10.5 tackles for loss, one interception and two fumble returns for touchdowns while Rwabukamba had 26 tackles and one interception.
The White squad also includes defensive end Patrick Egboh (25 tackles in 2008), wide receiver Austin Kelly (13 receptions for 142 yards in 2008), defensive end Wesley Oglesby (54 tackles & 8.5 TFL in career) and quarterback Sean Renfree.
Spring Game festivities begin on Saturday at 9:30 a.m. with the annual Junior Blue Devil Club Day registration. This event is open to all current members for free while other kids aged (5-15) may participate for $5. To register go to www.dukepromo.com. At 11:00 a.m., the Duke team will participate in the Blue Devil Walk from the Duke Chapel to the North End Zone of Wallace Wade Stadium. Pregame entertainment — featuring live music from Love Newton, BBQ lunch plates for $5, raffle drawings, face painting and inflatable games — begins at 11 a.m. on the stadium concourse.
Kickoff for the Spring Game is set for 1 p.m. Admission to the game is free of charge.