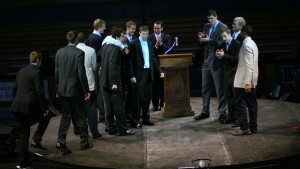 DURHAM, N.C. – The trio of Gerald Henderson, Jon Scheyer and Kyle Singler shared the Swett-Baylin Award for Most Valuable Player at the annual Duke Men's Basketball banquet on Friday night in Cameron Indoor Stadium.
Henderson, a Wooden Award All-America and first team All-ACC choice, also received the Bill Krzyzewski Captains' Award, True Blue Award for most charges drawn (20), the Best Field Goal Percentage (.450) and Best Defensive Player.
Scheyer, the ACC Tournament MVP, also received the Bill Krzyzewski Captains' Award, the Iron Duke Award for most minutes played (1,214), the Best Free Throw Percentage (.836) and the Most Assists (102). He has recorded the best free throw percentage in all three of his seasons at Duke.
Singler, a second team All-ACC selection and 2K Sports Classic MVP, had the Best Rebounding Average with 7.7 rebounds per game. It is the second straight season he has posted the top rebounding average.
Senior Greg Paulus was named an Academic All-America for the second straight year and received the Dr. Deryl Hart Award as the top scholar-athlete. He has been named the top scholar athlete in each of the last two seasons. He also received the Bill Krzyzewski Captains' Award for the second time in his career.
The Glenn E. "Ted" Mann, Jr., Award, which is given to a reserve who contributes the most to team morale, was delivered to freshman Elliot Williams. The Coach's Award for a player exemplifying the commitment and values of Duke Basketball was given to Lance Thomas.
Three other awards were handed out Friday night. Joey McMahon and Griffin Tormey received the Gopal Varadhan Senior Manager Award, Elise Rose was given the Harry Rainey Spirit Award and John Roelofs was the recipient of the Charles Hogan Memorial Band Award.
2008-09 Duke Men's Basketball Award Winners
Swett-Baylin Award (Most Valuable Player): Gerald Henderson, Jon Scheyer, Kyle Singler
Dr. Deryl Hart Award (Top Scholar-Athlete): Greg Paulus
Glenn E. "Ted" Mann, Jr., Award (Reserve Contributing Most to Team Morale): Elliot Williams
Coach's Award (Player Exemplifying the Commitment and Values of Duke Basketball): Lance Thomas
Iron Dukes Award (Most Minutes Played): Jon Scheyer
Bill Krzyzewski Captains' Awards: Gerald Henderson, Greg Paulus, Jon Scheyer
Best Field Goal Percentage Award: Gerald Henderson
Best Rebounding Average Award: Kyle Singler
Best Free Throw Percentage Award: Jon Scheyer
Most Assists Award: Jon Scheyer
Best Defensive Player Award: Gerald Henderson
Gopal Varadhan Senior Manager Award: Joey McMahon, Griffin Tormey
Harry Rainey Spirit Award: Elise Rose