I received a tip that Roscoe Smith would be playing for the Baltimore Stars during the TOC, so I made it over to the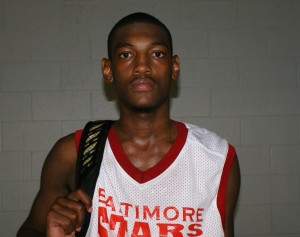 Wilson Rec Center at Duke University to check out his game.  Smith was not even listed on the roster when it came out, so he caught a lot of people off guard.  After all, this would be Smith's first AAU game ever.  There was some mention that Smith had been offered by Duke, but this is not true at this point.
Do you have a list of schools?
Yes.  North Carolina, West Virginia, Maryland, Florida, Kentucky, UCLA, Villanova, Clemson, USC, Oregon, Oregon State.  There is a lot.
Do you have a time frame on narrowing it down?
No.
Will you play for the Baltimore Stars the rest of this AAU season?
Yes, I will.
You have participated in the LeBron James Nike Camp, but this is your first ever AAU  game, is that correct?
Yes, this is my first game.
Did you have a dream school growing up?
Naw, I never had a dream school.  I grew up mainly watching the NBA.
Is there a player in the league you pattern your game after?
Yes, Rudy Gay.
What kind of system do you see yourself playing in college?
I seem myself playing a wing forward, just wherever I fit in at.
Do you like a fast paced up and down type of game?
Yes.
If somebody had never seen you play, how would you describe your game?
Versatile.  I'd say a versatile player that can do anything.
When will you get serious about looking at a college choice and who'll play a big role in the selection?
My family.  My mother and my father.  Probably after the Nike Camps when the summer ends and I have some free time with myself and my family.
Have you taken the PSAT or any other tests?
Yes.
So, there is no problem with qualifying?
No problem with qualifying.
Are you open to other schools?
Yes, I am always open.  That's why I haven't narrowed my list down.
Have you been on any unofficial visits?
I have only been on one visit and that was to Georgetown.
You listed a lot of schools, are there any which stand out?
You know, you know the North Carolina's, the Kentucky's and the Duke's are the most talked about and popular programs, so they are going to always float around.
With Coach Calipari at Kentucky now, is that a good thing?  I mean were they looking at you all along?
They were looking at me all along.  In fact, I talked to Calipari last week and will start to build a relationship with him.  So I am just seeing how I react around the coaches.
What coaches came to see you during the April evaluation period?
A lot, it was a lot.
Any offers yet?
The majority of the schools have offered, about 30 or 25.
Anybody listed that hasn't offered?
I have no idea because a lot of schools have offered me.
Have you had any contact with local schools besides North Carolina?
Yeah, I have had contact with N.C. State and Duke.
Where to from here?
We just go back to the motel and regroup.  What did you like about my game?
I liked a lot of it.  You are a pretty well rounded player from what I saw in the game.  Just keep working hard, never stop working.

Okay, thank you.
This interview may not be reprinted in part or whole without permission from Blue Devil Nation.net
Coming to BDN Premium - Two Kyrie Irving interviews, Ray McCallum audio interview, Dominique Ferguson interview, Mason and Marshall Plumlee interviews, Quin Cook interview, Michael Gilchrist interview and more.  We will also have pics and tidbits from the TOC.  All of this is coming from today until Sunday.  Subscribe now so you will not miss any of the action.  BDN tells it like it is with straight  and knowledgeable coverage.  Isn't it time to join the hardest working and most informed Duke site around?