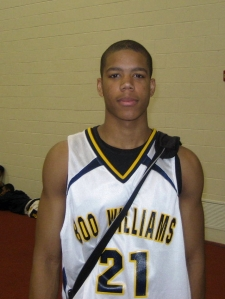 The Southern Invitational AAU Basketball tournament was held this past weekend at the Boo Williams Complex in Hampton, Virginia, with Mark Watson on site covering the event for Blue Devil Nation.
Semi-finals action saw all three 2010 Duke commits in action against each other as Boo Williams, featuring Andre Dawkins, defeated DC Assault, featuring Josh Hairston and Tyler Thornton, 63-54.
Dawkins led Boo Williams by scoring 26 points with 23 coming during the second half.  In the first half, Tyler Thornton played shutdown defense on Dawkins limiting him to three points.  Foul trouble caught up with Thornton so he was unable to keep up the defensive pressure.  Highly touted 2011 prospect James McAdoo scored 16 points for Boo Williams.
Josh Hairston was limited to three points in the contest.  Hear  all the details from Mark in this audio update over at Roundballrecruiting.com.
In the Championship Game, CP3 made a statement via a dominating 93-70 victory over Boo Williams.  This is a game everyone expected to be close but it was anything but close.  CP3 was led by UNC bound Reggie Bullock, Wake Forest bound Melvin Tabb, 2011 player PJ Hairston, and a relatively unknown point guard named Chapman.  Hear all the details here.
News from the earlier action is here and here.  Be sure and check back as Blue Devil Nation will be providing much additional coverage of the Southern Invitational over the next several days.