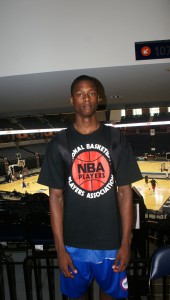 During the first day of the NBAPA Top 100 event, all eyes were on Harrison Barnes and his family.  His Mom and sister you say?  Yes, many media members were in her ear throughout the day as she watched her son put up 14 and 10 points in his first two games.  BDN set up an interview with the camp staff, which was supposed to consist of the Charlotte Observer, a writer from Basketball Times and myself, but you will hear others crash the party after the first several questions during this audio


Sorry, but you must become a premium subscriber to view the rest of this post.

Join now by visiting the PREMIUM MEMBERSHIP link at the top of the page, where you can learn more about the benefits of a Blue Devil Nation Premium membership.