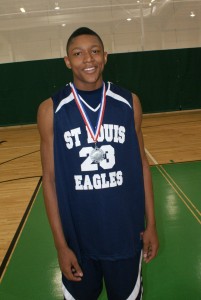 Brad Beal is a 6'3" shooting guard from Chaminade high school in St. Louis, Missouri. As a sophomore, he led the Red Devils to the Missouri state title and was named all-state. After the season, Beal tried out for the United States under-sixteen developmental team in Colorado Springs, Colorado. He made the team and traveled to Argentina for the 2009 FIBA U-16 Championship. Once again, Beal was the leading scorer for the team and led the USA with twenty-six points to a gold medal in the championship game over host team, Argentina. Not surprisingly, the Missouri native has become one of the most coveted prospects in the 2011 class and a consensus top ten prospect
At the King City Classic in Cleveland, Beal sat down with Blue Devil Nation to discuss a variety of topics, including his recent winning international experience, the advantages of being a cerebral basketball player, and provided a scouting report on Duke recruit Quincy Miller.
Blue Devil Nation: Can you talk about your experiences with the USA team?
Brad Beal: It was a really good experience. It was a talented team. We all played hard and together. It was one of the best experiences for me.
Blue Devil Nation: You were the leading scorer and the team had to win over the host, Argentina, in the Gold Medal game. The fans were reportedly going crazy during the game and throwing things after the game. It must've been an wild experience.
Brad Beal: It was crazy. Every call, like, every bad call, they would boo us and [private] they would start throwing stuff at us as we were pulling away. They were real supportive fans of their country, though. They never gave up. It was a really interesting experience.
Blue Devil Nation: What were the tryouts like in Colorado? Talk about that time spent out there.
Brad Beal: It was really intense, man. There were a limited amount of players and the players were going after it and the coaches were pushing us.
BDN: Did you guys bond over time spent together in two countries?
BBeal: Oh, yeah, we got along really well and hung out in the dorms together.
BDN: All you had was each other in Argentina.
BBeal: Right, right, we would joke around and we would take little trips around together.
Blue Devil Nation: Who's the toughest competitor that you've gone against?
Brad Beal: Probably Austin Rivers. He's a real good point guard and he's tough to match up against.
Blue Devil Nation: What is your greatest strength right now?
Brad Beal: My offensive ability overall. My ability to create my own shot, get other players involved, and rebound on both ends of the court.
Blue Devil Nation: In terms of Chaminade, you just won the state title. You were the leading scorer and made all-state as a sophomore. Can you talk about your season, which culminated in you dominating in the championship game?
Brad Beal: Well, with my school team, coach just told me to play hard and, last summer, he told me I was going to have to make a big impact because we lost a lot of guys actually. He told me what to do and so I just did it.
BDN: You went from being a nine point scorer as a freshman to a twenty-four point scorer.
BBeal: Yeah, well, my freshman year team was pretty stacked. I wasn't really worried about scoring, but, by the next year, we didn't have too many scorers. So, I had to go out there and get us some points.
Blue Devil Nation: Is there any pressure to play for Florida on you, with David Lee's dad working as an assistant coach on your Chaminade team?
Brad Beal: No, not really. He just kind of tells me the pros and cons of Florida and tells me things about Coach Donovan.
Blue Devil Nation: Can you talk about how you chose Chaminade over your local public school? What are the facilities like and how have you embraced the challenges academically?
Brad Beal: Well, I chose it over another private school that my brothers went to. I wanted to be different than them.
BDN: These are the brothers that played college football.
BBeal: Yes, they went to a different school in the same conference.
BDN: Which one was that?
BBeal: Vianney
BDN: Oh, sure. Were they upset with you for going down a different path?
BBeal: No, they weren't too upset, but they're coach was pretty mad. (laughs)
BDN: What are the facilities like there? I heard they were pretty good.
BBeal: Oh, yeah. We've got a nice gym and a comfortable place to work out. We have a really aggressive strength coach. He gets after us.
BDN: He must. I see you have a large tat on your left gun over there.
Blue Devil Nation: What aspects of your game can you work on during the AAU season that you cannot work on at Chaminade? How does it differentiate?
Brad Beal: My quickness…like my lateral quickness. I'm able to work on my defense and pressure up on the ball much more.
Blue Devil Nation: Can you talk about the experience of having to take on a leadership role at a such a relatively young age and how it worked in terms of locker room dynamics?
Brad Beal: Right, right, players really started to look up to me this season. I was prepared to take on the role so it really wasn't a big deal to me.
BDN: Who are some players you try to emulate?
BBeal: Ray Allen. I like to watch the way he shoots off of screens.
BDN: Where have you visited so far?
BBeal: Illinois, Purdue, Kansas, Florida, Missouri, and St. Louis
BDN: What position are they recruiting you as? Shooting guard exclusively or as a combo guard?
BBeal: Yeah, combo for some, but mostly shooting guard. I can play the point or the two or the three…whichever position you want to put me at.
Blue Devil Nation: Some articles have talked about your grades, what do you feel are some of the advantages of being a "smart basketball player?"
Brad Beal: Usually, I think, like, my IQ is real high. I can see the floor. I know different aspects of the game and what to do in certain situations.
BDN: You think you can pick up concepts a little faster and, perhaps, see a play ahead in certain situations.
BBeal: Right, right
Blue Devil Nation: In previous articles, you come across as a pretty cerebral kid. How do you feel about early commitments? Do you feel there is a certain age before which a kid shouldn't be offered a scholarship? If you were a coach, when would you begin recruiting a player?
Brad Beal: It's on the coaches. If they see a kid that they really like as a freshman or a sophomore, than they should be allowed to offer the kid. On the other side, the kids have to really smart not to jump on the offer right away just because it might be shock to them if the coach leaves or if something happens.
Blue Devil Nation: Do you still view it as early in your overall recruitment?
Brad Beal: Yeah, now, at first, Kansas was the first school to offer me and I was, like, wow. Then, I thought well maybe more and more schools are going to come. I thought I should wait it out and see all the offers I get first before I make any decisions.
BDN: After your playing career is over, either in college or in a professional league, have you thought about what you'd like to do with the rest of your life?
BBeal: I would probably like to be a trainer and maybe get into sports medicine.
BDN: Are there any new teams involved?
BBeal: No, not really?
Blue Devil Nation: Did you have a favorite, as a kid?
Brad Beal: I really liked Duke coming up and J.J. Redick.
BDN: Are they recruiting you?
BBeal: I believe…they probably will, but I haven't heard anything just yet
Blue Devil Nation: Whenever you do decide on a college, what are the most important factors that will go into your decision?
Brad Beal: The coaching staff and the players and how well they play as a team…and how much of a family atmosphere they have there, how much the players like the fans, and how the fans are. You know if they really support the players and stuff.
BDN: Have your brothers encouraged you to go to any school?
BBeal: No, not really. They help me also, along with my mom and dad.
BDN: Who will be the people that you turn to when you ultimately decide on a college?
BBeal: My parents. My family more than anything really
BDN: Did they play also?
BBeal: Yeah, they both played basketball.
Blue Devil Nation: For those in the audience that haven't seen you play, can you give the audience a scouting report on you?
Brad Beal: They say don't let me shoot. They play box-and-ones.
BDN: Watch the three-point shot?
BBeal: Yeah, exactly, get the ball out of my hands because I can square up from anywhere.
BDN: How's your mid-range game right now?
BBeal: Yeah, I do. I feel comfortable taking a player off of the dribble and pulling up for a jump shot.
Blue Devil Nation: What would you like the audience to know about you away from the court?
Brad Beal: I'm a good guy. I can be funny at times and I get along with players really well.
BDN: So you're a good teammate?
BBeal: Yes. I always try to be.
BDN: Have you met LeBron James yet?
BBeal: No, I didn't have a chance to yet.
BDN: Well, hopefully they can give you a chance later. What style of play do you feel your game is best suited towards?
BBeal: I like to play up-and-down.
BDN: Have any of the Duke coaches communicated with you?
BBeal: Well, I haven't anything yet
Blue Devil Nation: What are your impressions of Coach Krzyzewski from afar?
Brad Beal: He's a really good coach. He's been coaching for a really long time and he really knows the game of basketball
Blue Devil Nation What are your impressions of Duke, both as a university and as a basketball program?
Brad Beal: It's a really good school. They recruit really well and they've developed some really good ballplayers. I'm going to start considering them also.
BDN: Forgive me, but what is that verse Philippians 4:13 on your left arm?
BBeal: It's a scripture that I try to read before each game.
BDN: And what does the passage say?
BBeal: It says "I can do all things through Christ, who strengthens me."
Blue Devil Nation: How do you feel you've performed this spring?
Brad Beal: I feel I played pretty well today. In the first game, I feel I should've been more assertive and then I came alive in the second game. I think I started to show what I'm capable of. I've done really well and my team, the St. Louis Eagles, in the AAU events this spring. I've helped my team go to the championships or the final four in a few different tournaments.
BDN: Do you prefer to catch-and-shoot or would you rather shoot off of the dribble?
BBeal: I can do both, but I love to spot up. Then again, if someone's on me, I can go around him.
Jody Demling: How have you dealt with the attention that has come upon you?
BBeal: I just don't let it get to my head. I just thank God for the blessings he's given me.
Jody Demling: But it's pretty cool, isn't it?
BBeal: Yeah, it is.
Jody Demling -Do you ever look at the rankings?
BBeal: Not really. I've looked at them, but I try not to pay attention to them and let them affect me.
BDN: What schools are coming after you the hardest?
BBeal: I'd say Kansas, Florida, and Illinois.
Blue Devil Nation: Can you give a scouting report on Quincy Miller?
Brad Beal: Sure, he's a big man slash guard. He's a freak athletically. He can take his man outside and take him one-on-one off the dribble or he can post up and take his man in the post. So, he's a really tough guy to defend.
BDN: Had you ever played with him before today?
BBeal: No, I hadn't.
Blue Devil Nation: In an event like this, do you find it difficult at all to mesh quickly as a team as well as establish and distinguish yourself?
Brad Beal: Somewhat, like, to some people it is, but I just try to go out and show them that I can be just as competitive as they are.
BDN: Thank you, Brad.
BBeal: Thanks. [/private]